Fast Fix: Keep Your Router Bits Sharp and Safe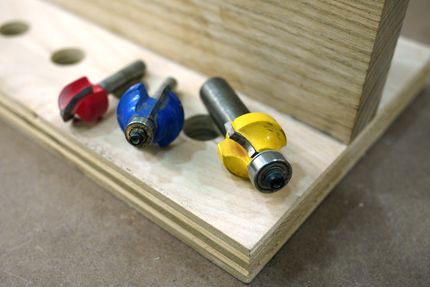 Despite the image of being really finicky folks, not even woodworkers are immune to "junk drawer syndrome." If you use a router, or a router table to cut joinery and profile edges, it's easy to toss your bits into a drawer when the work day's done. Lets face it, sometimes we're lazy. The trouble is, router bits left to their own devices in a drawer full of bric-a-brac quickly lose their sharp cutting edges.
The solution? A simple T-shaped drawer built from a couple of scraps. Learn how to build one in the latest episode of FineWoodworking.com's Fast Fix video series. And be sure to visit the home of Fast Fix for even more time-saving tips and techniques.
More on How to Use a Router Safely and Effectively
Five Essential Router-Table Jigs

Learn how to make and use five simple yet versatile jigs and fixtures for a router table. With them, you can repeat shapes consistently and quickly, make stopped cuts in angled workpieces, profile narrow stock, and edge-joint a stack of veneers effortlessly.




High-quality router bits are not cheap, and making the wrong choices can hurt your wallet and limit your woodworking. So contributing editor Gary Rogowski put together a collection of 10 bits that will do a lot of things well.




Tool Test: Heavy-Duty Plunge Routers

3-hp routers have the raw power needed to cut great mortises, profile edges, shape wood to a template, cut dadoes and rabbets, and more. We tested eight plunge routers to see how well they hog away waste and what kind of surface they leave behind.