SawStop - Sawstop- 120-volt 10-in. Professional Sawstop Cabinet Saw
The SawStop is the only tablesaw with a brake that stops when it touches skin, now runs on 120-volt power.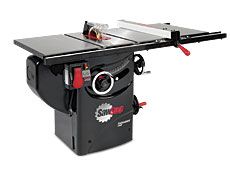 SawStop's newest Professional Cabinet Saw has a 1-3/4-hp motor that runs on 120-volt power. The saw has the same cabinet and many of the same features as the 220-volt Professional Cabinet Saw (FWW #209), but its motor is more closely related to the one on SawStop's Contractor Saw, which had plenty of power in a past test (FWW #199). The new saw is available with 30-in., 36-in., and 52-in. rip fences, with prices starting around $2,300. All the tools in the SawStop lineup have a unique blade-stopping brake meant to prevent injury.