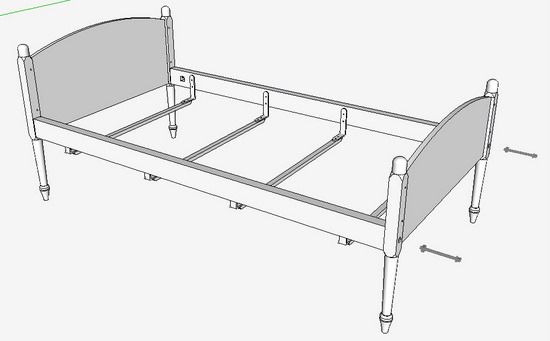 To me the bed bolt joint is very important – I'm using it quite often in large furniture pieces including non-bed furniture such as workbenches and display cabinets. Not only is it effective for enabling disassembly, but also it is a very strong and rigid joint. Last week I showed its use in a bunk bed. This week I'll show how it is used in a Shaker bed.
Here is the overall model of the bed, showing the bed bolts withdrawn from the joint. There are four bed bolts, one in each of the corners. The recess hole for access to the bed bolt nut is "blind" on the outside face of the rail. On workbenches and the bunk bed, I run the recess all the way through the rail.
Before doing the detail joint design, I purchase the bolts. In this way I'm assured of the overall length, thread length, head type and size – all parameters important for detailing the joint. You can buy special bed bolt hardware, but often I use standard 3/8-in. dia. hex head bolts from the hardware store. I like square nuts in lieu of the normal hardware store hexagon nuts. I find that the square nuts have a better "bite" into the wall of the access hole.
After purchasing the hardware, I will model the bolt in SketchUp. I use this bolt model to help in the location of the recess hole in the bed rail. Also it helps in the location and sizing of the bolt head recess hole.
Here is an exploded view showing the details of the bed bolt joint including the bed rail tenon.
The SketchUp work to detail the joint is quite straightforward using Line, Circle, and Push/Pull Tools. After connecting the rail – with its tenon – to the post's mortise, I insert the bolt on the centerline of the mortise/tenon. With its insertion, I can use the bolt to help locate the nut recess or access hole in the rail. I've shown a square access hole, although I often make it easier by boring a large round hole.
When I model the bolt, I include a centerline in the component's definition. I'll use that centerline, double clicking the Tape Measure to make an in-line guideline. This guideline then is used to "bore" the 3/8-in. dia. hole in the post and the rail. It is also used to locate the center of the recess hole in the post for the head of the bolt.
Here is an X-ray view of the assembled joint which helps to verify proper fitting and alignment.