Shop Tours with Fine Woodworking Staffers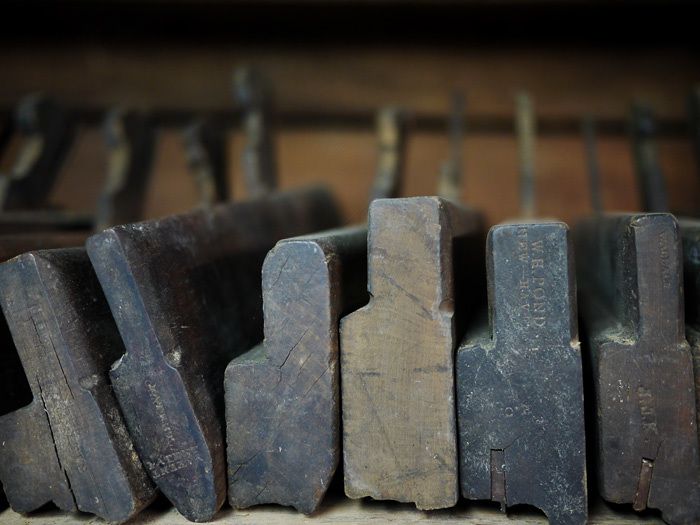 A few weeks ago I packed up the car and headed off to the hometown of Fine Woodworking associate art director John Tetreault. We met up to shoot the opening sequence of a new video workshop (due out this September) on how to build his new take on a Roubo-style bench. Now, first of all, John's house seems to have been pulled straight out of a fairy tale. The little red farmhouse is surrounded by a huge crop of wild flowers out front, and a serious garden out back, where our very own staffer has built a fence from gnarled branches and bamboo in a bid to keep out the critters. Just outside the back door, he's constructed a dry-stack stone barbecue that gets a heck of a lot of use. Then, over on the west side of the property, just past where the rainbow ends, sits John's chicken coop, from which he harvests his breakfast every morning. Oh, and did I mention the detached workshop? I mean, come on! Let's just say, he's got a great setup.
Anyhow, regarding that workshop, I had my video-capable still camera with me and decided to put together a little shop tour. Consider this to be the first of a series. Over the coming months, I'll be inviting myself over to the shops of various Fine Woodworking editors and staffers–I think Matt Kenney's about due for a visit–to see where these guys ply their trade. If there's anything special you'd like me to look into, by all means, let me know in the comments section at the bottom of this blog post.
More on Setting Up Your Shop
Dream Shops
Set Up Shop on a Budget


Set Up Shop for $5,000


Shop Tour: Good Design for a Garage Workshop