Stellar Training in Craftsmanship. Period.
Boston's North Bennet Street School turns 125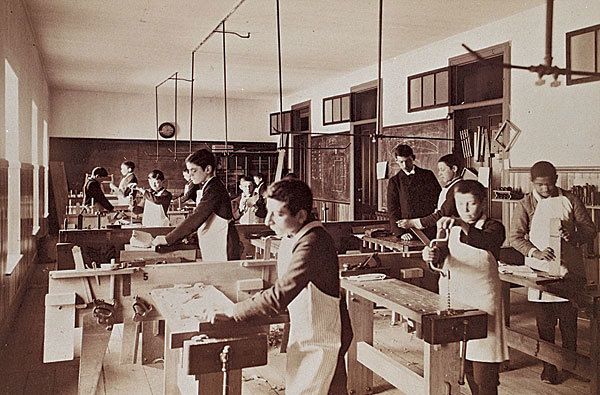 Synopsis: Boston's North Bennet Street School turns 125 this year. We look back on the school's origins, from sloyd, an innovative method of teaching hand skills, to the program on furniture making that has turned out some of the top craftsmen of our day.
Steve Brown entered North Bennet Street School's Cabinet and Furniture Making program in 1988 with one year's experience in a shop that cranked out thousands of grouting trowels and street-hockey sticks. The furniture program was, he says, "a very intimidating place to come into." Everywhere he looked were students reproducing some of the most challenging pieces of period furniture ever designed. "The scope of the work and the level of quality were just overwhelming," he says. "You can't imagine that you'll ever be doing what other people are doing. But eventually you find out they were just like you."
These days, Brown is the lead instructor in the program, which runs for two years and has four teachers and some 40 students. After 10 years, Brown says, "I'm still blown away by what gets produced here." Sometimes in the early mornings, he walks around the empty shop and marvels at the work that's under way. "It's still incredible to me to see how somebody with very little experience can so quickly pick up the skill and the thinking required to produce work that matches pieces you'd find in a museum."
The school turns 125 this year, and for all that time it has occupied the same quirky building—a former church stitched together with three adjacent townhouses—in Boston's higgledy-piggledy North End. The school was founded to serve the teeming population of recent immigrants then living in the North End. Originally, it provided a range of social services: kindergartens, English classes, vocational training, recreational programs.
One program that had a profound national impact started in 1889 when Pauline Agassiz Shaw, the visionary founder— and funder—of the school, brought two Swedish teachers of woodworking sloyd to NBSS. Sloyd (craft, in Swedish) was an innovative method of teaching hand skills as an integral component of a broader education. Hundreds of grammar-school students attended sloyd classes at NBSS. The teaching of sloyd may have faded, but today's NBSS students, before they learn to use and maintain machines, do projects predominantly with hand tools. And certainly many students in the full-time furniture program—more than half of whom arrive with college degrees—as well as many of the 500 to 600 people who sign up each year for shorter workshops would concur with Shaw that "it is not enough to train the intellect alone … the eye and the hand are together the most trustworthy leaders of the brain."
Although NBSS is not explicitly a period furniture making school, its instruction is based almost exclusively on American and European pieces from the 18th and early 19th centuries.
From Fine Woodworking #213
Note: Some images in this article are courtesy of The Schlesinger Library, Radcliffe Institute, Harvard University.
For the full article, download the PDF below:
View PDF