Bessey - Bessey- H Series Pipe Clamp
With greater stability and an elevated handle, Bessey's new H-series pipe clamps eliminate much of the frustration associated with panel glue-ups.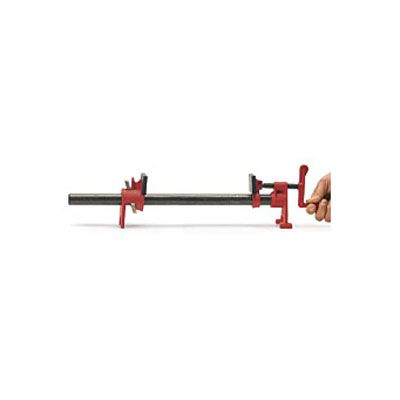 Bessey is making glue-ups easier with its new "H" series pipe-clamp hardware. With a base that's taller and wider than on standard pipe clamps, these high-rise clamps provide more room for the handles and prevent you from scraping your knuckles. Plus, they're less likely to tip.
I tested 1/2-in. and 3/4-in. versions using both black-steel and galvanized pipe. The sliding jaws slid fine but didn't lose their grip when the clamps were tightened as tight as I could make them.
The clamps include plastic slip-on pads to protect the work from dents. The pads worked well in my tests with cherry, maple, and pine. Only on butternut, an especially soft wood, did I find dents consistently.
Expect to pay about $18 per pair for the 3/4-in. set and $16 for a 1/2-in. set.