Adding Materials to Your Model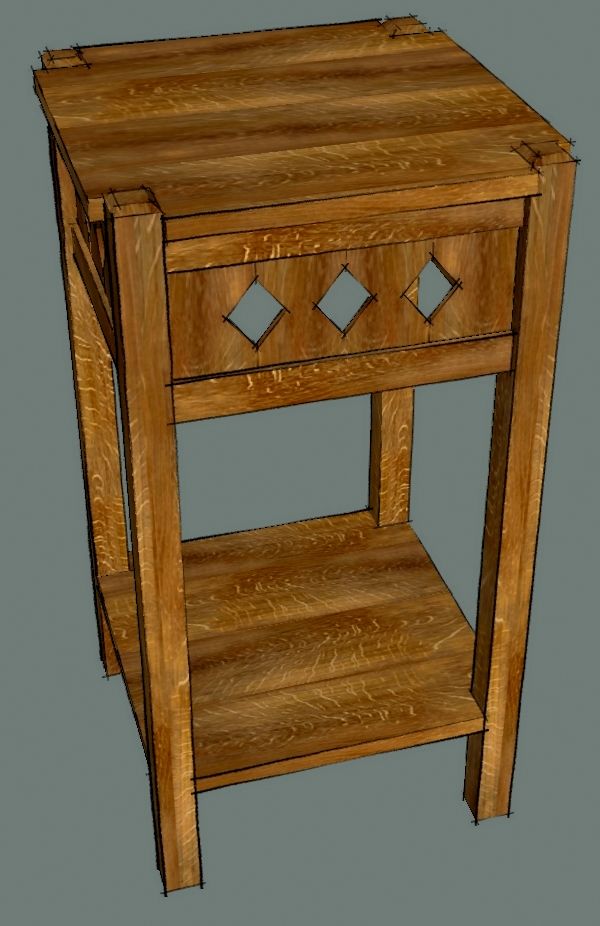 A few weeks ago I demonstrated my process for drawing a piece of furniture using this fern stand based on a drawing in a book called Mission furniture: How To Make It. Now I'd like to show you how I added some wood grain material to the model.
There are a couple of key things to remember when adding materials.
1. Apply the material to the faces in the component and not to the component itself. If you apply the material to the component, you'll have no control over its orientation. Applying the material to faces gives you that control. Since you'll be editing the component, all other instances will get edited at the same time.
2. Highly figured wood grain images generally don't work so well because the image will be repeated. this is especially problematic with knots and burled grain. Even the material I've used in this example is too small to use for the entire fern stand. the distinctive ray fleck pattern is repeated enough to be noticeable.
3. Usually high resolution images of materials are not needed. Image file sizes of no more than 500 Kb generally work just fine. The image file size will get added to the model file size so a couple of 1 or 2 Mb images can bloat the file dramatically and potentially lower computer performance while you are working.
If you find good wood grain images, save them to your computer. Then, bring them into SketchUp by clicking on File>Import. Set the file type to match the image you've saved. Tick the radio button for Use as Texture and apply the material to a face within the model. You can edit the dimensions of the material after you've imported it by selecting the material's thumbnail in the Materials browser and then clicking on the Edit tab.
After you've got the material into the In Model library, go back to Select and open the secondary pane by clicking on the plus icon under the down-pointing arrow in the top right corner of the dialog box. Set the secondary pane to the desired library, probably Wood in this case, then click and drag the thumbnail image from the In Model pane to the Wood pane. 
If you want to play with that, here's an image of a similar wood grain that I used for the fern stand. the blog forces a small image size but this should work for experimentation anyway.