Free Plan: A Dedicated Sharpening Station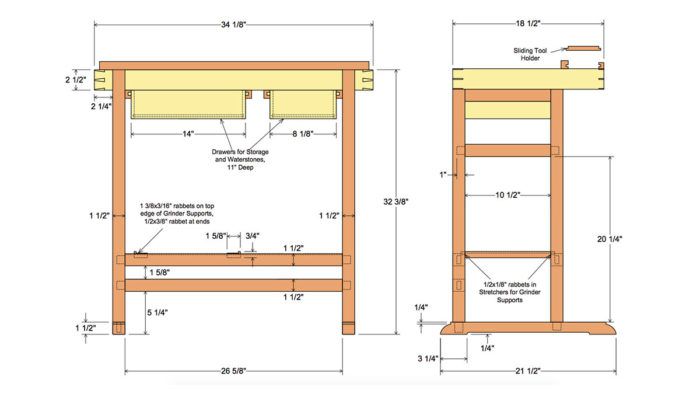 Are you ready to build a brand-new workbench dedicated to sharpening? If you have a bit of extra space, check out blogger Tom Fidgen's new project and download a free plan at the bottom of the page.
You can also read along as he builds the project start to finish as a hand-tool-only project. You don't have to build it with hand tools, but his step-by-step account is a good view into an unplugged workshop.
Build a sharpening station like this with help from a free plan by Tom Fidgen.
He starts by building a square and stable base and a flat top. Then he adds specialized sharpening accoutrements including a granite insert, a drawer to hold sharpening stones, and a walnut tool tray.
Fidgen's already put his bench to use and says he's pleased with the results. "My sharpening routine has indeed become much more pleasurable and efficient having this dedicated sharpening bench."
Plane blade maker Ron Hock concurs that a sharpening station is a bonus for any woodworker. In his blog he writes, "A dedicated station like this is more than a luxury, it belongs in the shop as much as any other work station."
So, if you have a bit of shop space and a bit of time over the holidays, give this project a try.
To download the free woodworking plan for Fidgen's Sharpening Station, please click the View PDF button below.
View PDF