Building a Table Top Breadboard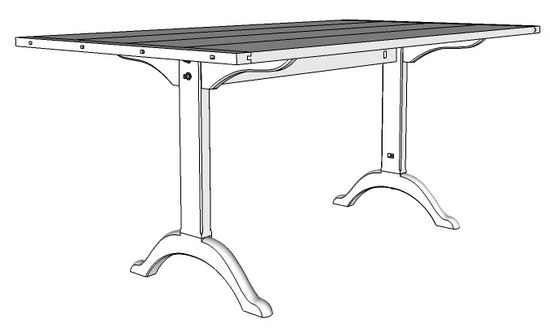 There are many designs for breadboards. In this case I've chosen one that uses a continuous tongue length and wood screws. Of course, the breadboard connection must accommodate top expansion/contraction. I've incorporated a slotted shank hole for the wood screws for this purpose.
I'm building a Shaker table and will use this to show how I created the breadboard and its connection details. Here is the overall assembled view of the table.
Step 1: Create the tongue on the ends of the table top. This involves creating the face of the tongue after installing some guidelines to help with the layout.
Step 2: Use the Push/Pull Tool to create the full length tongue. Since I used four glued-up pieces of lumber for the top, it is necessary to apply lines to the tongue at the glue joint. (I did not make the individual planks separate components – the overall top is one combined component).
Step 3: Now we need to make the Breadboard component. I used guidelines from the table top to help with its layout. I included the groove shape in the creation of the breadboard face.
Step 4: Use the Push/Pull Tool to make the full length breadboard.
Step 5: In this step, I begin to make the slotted shank hole for one of the wood screw locations. First make the recess which will be plugged after fastening the breadboard to the top.
Step 6: I plan to use the drill press to create the shank slot inside the recess. I use the Circle Tool to place circles on each end of the bottom face of the recess. Then I connect these two circles with two boundary lines. With some erasing, I've created a shape of the shank hole slot.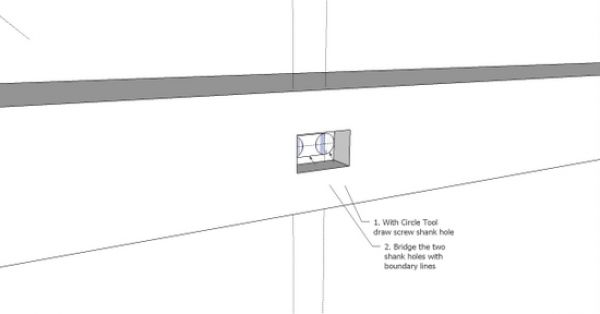 Step 7: With the Push/Pull Tool, push out the shank hole slot. I've made the Face Style X-ray, so you can see the resulting slot.
Step 8: Now that there is one complete slot, I copy this to the other three locations. These wood screw locations are equally spaced. So I've created a line and divided it to help with equal spacing.
Step 9: The breadboard can now be installed on one end of the table top. Copy this breadboard, flip along the red axis, and place on the other end of the top. These recess holes will be plugged with similar wood grain and flush with the breadboard edge.