Grilled to Perfection
Despite its delicate appearance this display cabinet is rigid and quite strong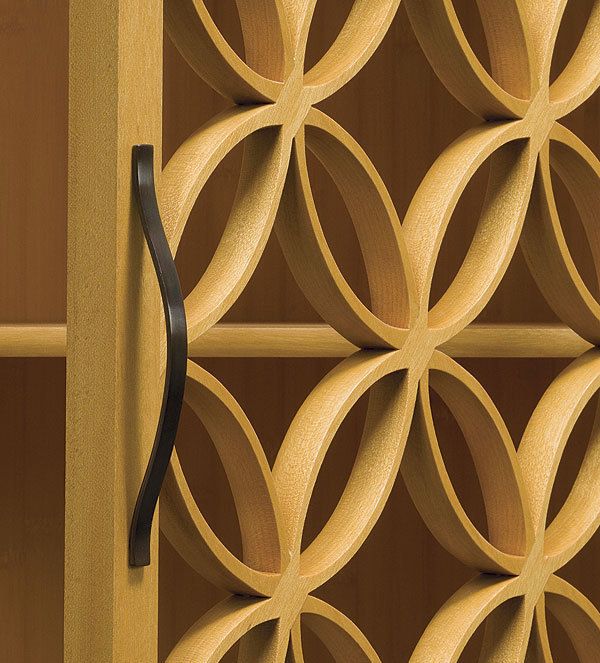 Despite its delicate appearance, the 3/4-in.-thick grillwork door on Michael Hurwitz's display cabinet is rigid and quite strong. But that airy delicacy required exacting craftsmanship. Hurwitz's assistant, Atsushi Hanano, who built the piece, started by creating rows of pointed ellipses linked end to end—which Hurwitz calls "strings of sausage." These were half-lapped and joined on the diagonal to give the illusion of continuous circles. To preserve the illusion and ensure strong glue joints, Hanano had to be extremely precise at every step to keep the curves aligned and the fit perfect.
Make the rows
Creating the concaves. After bandsawing the rough shape, Hanano uses a jig to flush-trim the concave curves. To avoid tearout, he routs downhill from each side.
Sausage sandwich. To make the "strings of sausage," he glues together pairs of workpieces, using long cauls to distribute pressure.
The outer curves. After bandsawing, Hanano flush-trims the convex curves with a second jig. He shims out the workpiece to fine-tune the final results.
Split sausage. Having shaped two "sausages" at once, Hanano rips them in two. To better control the workpiece, he uses a customized push stick that fits the curve.
Build the grid
Angled half-lap. Like a fingerjoint jig, Hanano's miter-gauge jig for cutting the half-laps includes a registration stick to space the joints. A shaped piece of wood is glued to the jig to prevent tearout.
Gluing in stages. Hanano dry-assembles the entire grille on a flat surface and then glues one "string of sausage" at a time.
Rounding the curves. A top-bearing router bit with a gentle sweep shapes the edges of the grille. After routing the whole grille on one side, Hanano turns it over and routs the other side.
A chisel goes where the router can't. Hanano uses a chisel to feather the router's curves into the corners. Then it's on to sandpaper to blend the curves and obtain the final surface.
Photos: Top photo by John Carlano, rest Jonathan Binzen