Powermatic - PM1800 18-in. Bandsaw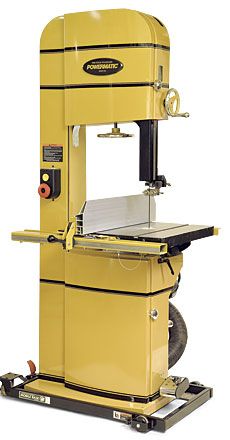 The Powermatic PM1800 ($3,900) is a zero-compromise machine. Clearly the designers put an emphasis on function rather than cost, a point exemplified by its hulking 805 lb. The stout frame and guides, massive upper wheel assembly, and threaded blade tensioner can easily support the widest resaw blades. A 24-in. square table, split front to back for easy blade changes, offers great workpiece support and mounts on massive cast-iron trunnions. Table tilt is controlled by a rack-and-pinion assembly with an 8-in. handwheel. The 18-in. throat and resaw measurements and a standard 5 hp, 240-volt motor provide plenty of capacity and power to handle the widest boards and thickest planks. With nicely sized, chrome-plated thumbscrews, the roller blade guides are easily adjusted and maintain their settings. The thrust bearing is grooved to better support narrow blades, a feature that's unique to Powermatic.
The large, dual-position aluminum fence provides 6-1/2 in. of support for resawing and a short 1/2-in. face for close guide support when ripping thin material.The Powermatic is quiet, almost scary quiet, powerful, easy to set up, and as stout as any big, vintage cast-iron bandsaw.