Looking Back on Sam Maloof
Woodworkers react to the loss of a living legend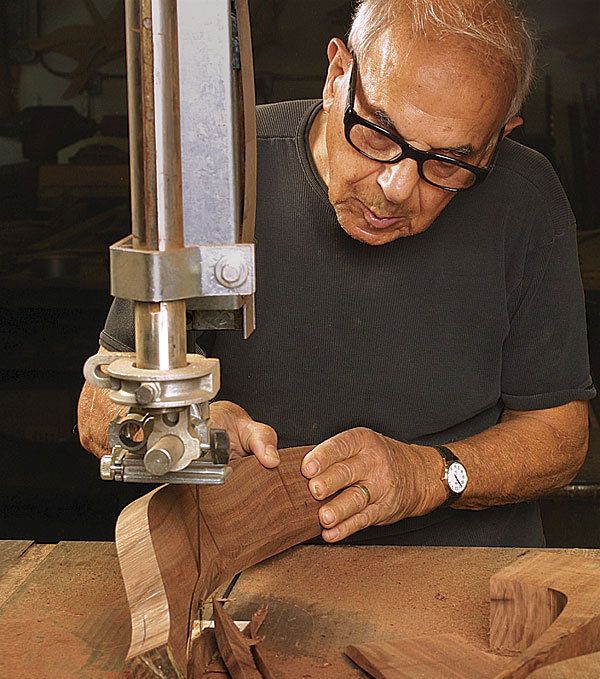 Synopsis: Furniture makers look back on the life and times of Sam Maloof, reflecting on his unique contributions to woodworking and how he touched their lives personally and influenced their furniture designs.
Online Extras:
– An audio slide show of Maloof's furniture, home, and studio, with reflections from fellow woodworkers
– Memories from our online community
– A never-before-published Q&A with Maloof
– An archive of interviews with and stories about Maloof
From Fine Woodworking #207
The news of Sam Maloof's death in May did not come as a complete shock—after all, he was 93 and had been making furniture for 61 years. Yet, for many in the woodworking community, accepting it has been difficult. For more than half a century, Maloof has been a touchstone for the field, providing a powerful example for amateurs and professionals alike. He inspired generations of makers not just with his furniture, but with his lifestyle—the hand-built house and shop in a lemon grove in Alta Loma, Calif., where all were welcomed—and with his extraordinary generosity as a teacher, mentor, and friend.
Philadelphia furniture maker Michael Hurwitz, who was a teenager when he first saw Maloof's furniture in a 1972 exhibition, spoke for many others when he said, "we were in denial about the fact that at some point Sam wasn't going to be making furniture—you just thought he was always going to be there."
Maloof himself evidently had a similar feeling. According to Larry white, one of his three assistants, Maloof had continued buying whole slabbed logs of claro walnut right up to the end—despite having four woodsheds brimming with some 100,000 board feet of lumber. "I actually think," white said, "that Sam thought buying these beautiful trees was going to keep him going forever; that he was never going to leave us."
Maloof continued to work in his shop until six weeks before he died. In February, after several months' work with the help of Mike Johnson, another longtime employee, Maloof completed three distinctly new designs—a rocking chaise and two chairs. "I don't think I've seen him as happy in years as he was working on those pieces," White said. "He was totally absorbed, and it was a wonderful thing to watch. They were his last push, and he was obsessed to get them done.
"Production in the shop went to hell," White added with a laugh, "but he was having a great time."
Production slipped, White explained, because right up until this year, Maloof had personally taken virtually all of the chairs produced in his shop from plank to assembled piece—doing almost all of the bandsawing, shaper work, joinery, rough shaping, and glue-up before passing them to his three assistants for final shaping, extensive sanding, and finishing.
Both White and Johnson are accomplished furniture makers well capable of constructing the chairs; letting them do so would have freed Maloof to spend time designing new pieces. But he wouldn't hear of it. "He was so strongly committed to his clients and to having his hands on the pieces that went out the door," White said, "he just couldn't turn loose of that."
For the full article, download the PDF below:
View PDF