Creating a Hinge in SketchUp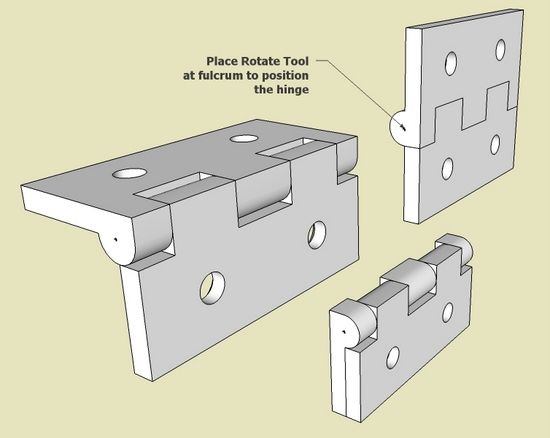 A reader asked how to make a hinge in SketchUp, specifically a Brusso Stop Hinge (used for small boxes). I've created many different types of hinges for my furniture designs, but typically I rough them out without detail, showing overall size only. In the following example, I will create individual hinge halves to enable rotation and positioning.
I could not find a dimensioned drawing of this particular Brusso hinge. However, I did find overall dimensions of 1 1/4 x 1 1/32 x 3/16. This hinge has a flat side on the knuckle which provides an automatic stop for rotation.
Step 1: Make a rectangular plate the total size of the flattened-out hinge
Step 2: Push/Pull the plate to the hinge thickness of 3/16-in. Draw in the diameter and size of the hinge knuckle.
Step 3: Bisect the thickness of the plate by drawing lines around the rectangle. Also use the Eraser Tool to clean up the waste lines for the knuckle shape.
Step 4: Use the Push/Pull Tool and tap the Ctrl Key, then push the knuckle shape all the way through the plate to the other end.
Step 5: Use the Eraser Tool to delete the thickness of the plate.
Step 6: The knuckle must be divided up between the upper and lower halves of the hinge. Place planes at the dividing points to use as cutting planes for the knuckle.
Step 7: Use the Select Tool and draw a select box around all hinge parts. Then right click on the selection and pick Intersect Selected. Use the Erasure Tool to remove unnecessary lines. Now the knuckle is separated into 5 different parts.
Step 8: Use the Eraser Tool to remove the lower half of the hinge. Make the upper half a component.
Step 9: Create the lower half of the hinge as well and make it a component.
Step 10: Make the screw holes and recess for FHWS.
Step 11: Since each of the halves are components, we can adjust rotation to show different positions of the hinge.
If you would like a copy of the SketchUp file for this hinge, let me know by email.
KJ6APQ