How to Design Furniture
Get inside advice from the experts in this special issue by the publishers of Fine Woodworking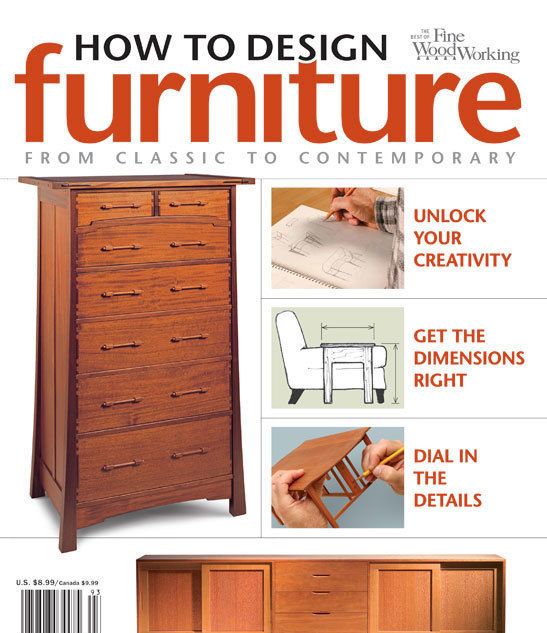 In order to build great pieces that blend beauty and functionality, your design has to be right. But when you look around for reliable information on the many facets of designing furniture, you'll find there isn't much out there.
That's why the Fine Woodworking's editors have put together this comprehensive workshop reference, How to Design Furniture. Visit our store to order your copy of this special issue. It's backed with more than 100 pages and dozens of articles on things like balancing form and functionality, choosing beautiful and human-sized proportions and angles, and drafting and modeling your designs before you build them.
Whether you're creating an original piece or replicating a period classic, you'll find all the tips, techniques and inside information you need to create a plan right here. And then we'll give you the tools you need to bring it to life.
If you're a fan of traditional furniture or simply want to allude to traditional styles when building your piece, this reference will teach you how important it is to know the past—from 18th century moldings to Shaker style drawer pulls to Arts and Crafts joinery.
If you're a contemporary artist, you'll learn how to generate new ideas and refine them with sketches, scale models, and even the latest computer modeling programs. You'll also get advice and inspiration from woodworkers who are already busy designing their own pieces, including contemporary icons like James Krenov and other woodworkers just like you.
When it comes to designing furniture, experience is the best teacher. Below, you'll find links to videos, blogs, and slide shows that we hope will set you on the path toward creating your own designs.
| | |
| --- | --- |
|    |  Design Ideas: Browse photos in our furniture gallery and upload your own. |
|   |  The Ultimate Design Tool: Master SketchUp with help from the Design.Click.Build blog. |
|   |  Multimedia Inspiration: Tour a dream house designed by the Greene brothers. |
|   | Pro Portfolios: Hear designers talk about their work and see a variety of collections from inspired designers as profiled by Jonathan Binzen. |
|   | Sam Maloof, 1916-2009: A retrospective of interviews, Q&As, videos, articles, and more on the woodworking icon. |
| | Matt Kenney: Follow Matt's blog as he designs 52 Boxes in 52 Weeks. |
| | Also, exploring the design process with Wayne Marcoux. |