Tape: Unsung Hero of the Shop
These 4 rolls will help you cut cleanly, lay out clearly, and clamp securely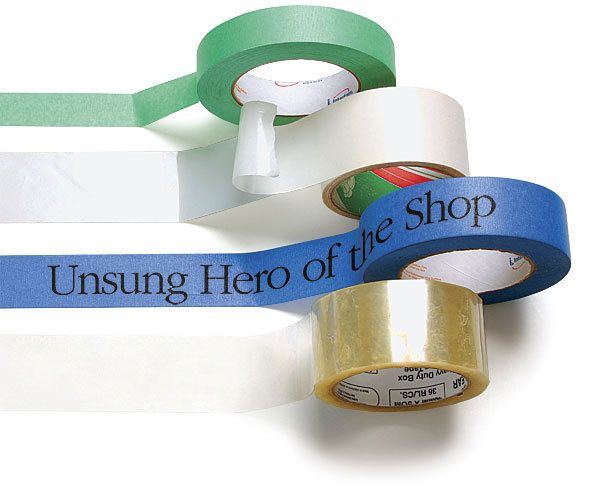 Synopsis: The humble roll of tape can be an invaluable shop aid, whether it is green painter's tape to help eliminate tearout, clear packing tape for extra clamping force, blue painter's tape for applying edge-banding and assembling mitered cases, or double-faced tape to simplify hinge installation. Adrian Ferrazzutti shares shop tips that will make the lowly tape dispenser one of your favorite shop assistants.
From Fine Woodworking #205
Some of you will sneer at the thought that something as humble as sticky tape can possibly help your woodworking. But don't be stuck up about tape. I'll bet you will find in this article at least one use for tape that will make you a better woodworker.
But before you start peeling and sticking, it helps to become familiar with the different types of tape. Most useful for woodworking: green and blue painter's tape, packing tape, and double-faced tape.
Green painter's tape is a great all-purpose shop tape. Unlike regular white masking tape, it has a low tack, which means it will release from wood with less chance of pulling out the fibers. However, it's not that strong. It snaps if too much pressure is applied, so don't use it as a clamp when gluing.
The blue painter's tape I use is the 14-day-release type (3M, #2090) rather than the 60-day type, which has a lower tack. I prefer the crepe style over the smooth because it stretches better, pulling seams and joints together. Compared with green tape, blue tape takes a fair bit of force before it snaps, so it can handle light clamping tasks. It has greater tack but releases well. It also costs more.
Packing tape is a great choice for clamping where traditional clamps are cumbersome. It has great stretch before it snaps, which translates into lots of clamping force. Packing tape is also very handy as a glue-release surface. Tape the contact surfaces of bending forms and cauls to prevent them from being glued to your work.
Double-faced tape is a great helping hand for hardware installation. The many types vary in thickness and adhesion. I use a thin, less-aggressive type as well as turner's tape, which is thicker with a very aggressive adhesion.
Green tape
Eliminate tearout: Even when combined with a zero-clearance insert, the best sawblades can cause cross-grain chipping, particularly on plywood. To prevent this, apply a strip of green tape straddling the cut line on the downward-facing side. Green tape is a better choice than blue, because it is less prone to pulling out wood fibers when removed.
For the full article, download the PDF below:
View PDF