Hand made cutters for a Stanley No 66 Beader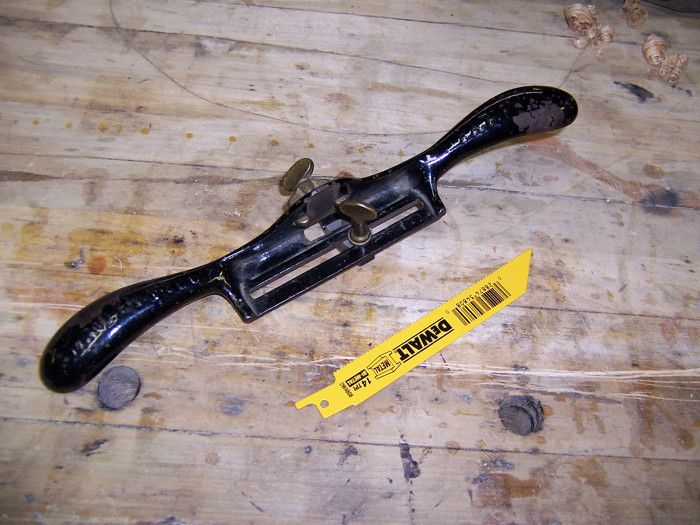 I'll be the first to admit that I'm a cheap skate. Anytime I have the opportunity to save a little cash when buying old tools I'll jump on it. Even if that means buying a tool incomplete so long as I know I can make it work with a little bit of effort. Plus being a hobbyist woodworker with nothing but time to spare, half of the fun is trying to make an old beaten up tool work.
A perfect example is the Stanley No 66 hand beader I bought of Ebay for $40.00. I was able to snag it fairly cheaply since it was auctioned off with no cutters. The tool collectors usually want the tool with a full set of cutters so they went on to happier hunting grounds. But for me, it was perfect. I knew that making replacement cutters would be a snap so I bid accordingly and luckily enough I won the auction.
Once I received the tool, I went to the local hardware store and picked up a reciprocating saw blade for a $1.00. Obviously you can use an old dull saw blade but unfortunately I didn't have one lying around at the time. The blade I bought was the perfect thickness (about 1/16″ thick) but needed to be 5/8″ wide in order to fit into the channel of the beader. I cut the blade in half and scribed a line down the side. Then I used my grinder to grind the blade to the appropriate width. Next I shaped a profile on each side and used files to shape the metal. After that, I used 1000 and 4000 slip stones to dress the metal and remove any burrs. The end result was a cutter that worked perfectly with the tool and literally only took a few minutes to cut.
I have a few more profiles to cut before I have the entire set, but I'll probably wait for my next big plumbing job in order to recycle some worn out reciprocating saw blades.