Behind the Scenes at Trading Spaces
Go with the FWW editor to the popular makeover TV series for an exclusive look at how the carpenters and crew do their work.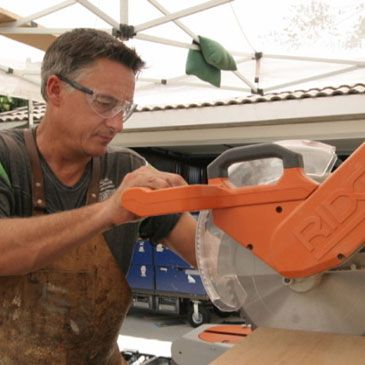 Watch Trading Spaces, the popular home-makeover series, from a completely different point of view.  Fine Woodworking got a chance to go behind the scenes to watch the carpenters and crew in action. You'll see how the crew sets up, the specially designed cabinets that hold their tools, and learn how they work with the homeowners and interior designers. The three videos follow the action for the three days it takes to produce an episode. At the end, of course, is our "reveal"–the carpenters showing the elaborate pieces they built in a little more than a day.
Day 0: The Crew Arrives

Trucks full of tools and machines pull up. Specially designed rolling cabinets hold all the tools and equipment the crew will need, and allow them to get set up and ready to work as quickly as possible.

Day 1: Solid Work

The carpenters explain how they get their work done and how they interact with the designers and families on the series.

Day 2: The Reveal

Three pieces of furniture  in 24 hours? All in a day's work for these craftsmen. Take a look at the results.