Build Better Sanding Blocks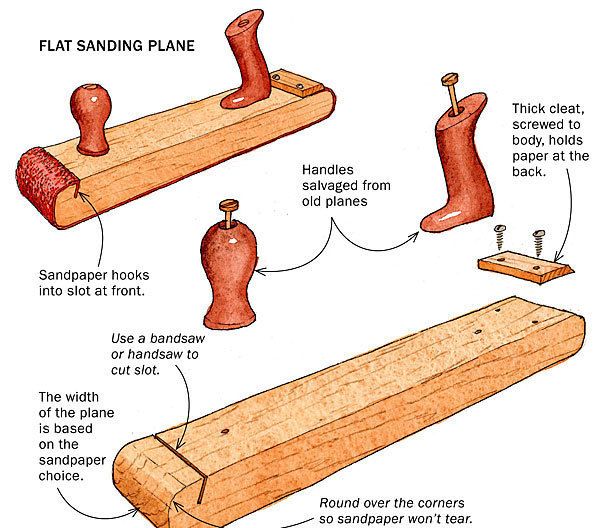 One day I was thinking about the interminable sanding process—the scratch-scratch-scratching on up through the grits … 120, 150, 220—and how I could make it a little more enjoyable. The idea that popped into my head was this supercharged, pimped-out sanding block—what I call a sanding plane—and in less than an hour I had built one.
Since then I've built several more, each adapted to a specific function. You can make a sanding plane with a thick hardwood sole for smoothing flat surfaces; you can use a thinner sole to make a plane that has some flex for smoothing large curved surfaces, like a coopered door; and you can make sanding planes to smooth various molding profiles (a convex version is shown).
To make a flat plane, start with a heavy piece of straight-grain hardwood, milled to about 2-1/4 in. thick. Cut it to length (the plane shown is about 16 in. long, but you can make them any length) and then joint the bottom and one side. Now rip the block to width, which depends on your selection of sandpaper. This plane uses a length of 3-in.-wide abrasive cloth from a sanding belt, so it's 3 in. wide. I also like to use premium B-weight sandpaper that is 41/2 in. wide and comes in 30-ft. rolls (Lee Valley is one supplier). Handles help control the long plane; you can make your own, or salvage them, as I did. To load the sanding plane, slip the paper in the front slot, wrap it around the sole, and then thread it under the cleat and screw it in place.
To make a molding sanding plane, cut a blank to about 9 in. long (the thickness will depend on the profile to be smoothed). Rout the profile on one edge and round over the edges on the opposite side. Cut the slot, add a cleat, and start sanding.
Drawings by Jim Richey.