Best Bench Chisels
Read all about the four chisels named best overall and best value in a recent FWW tool test.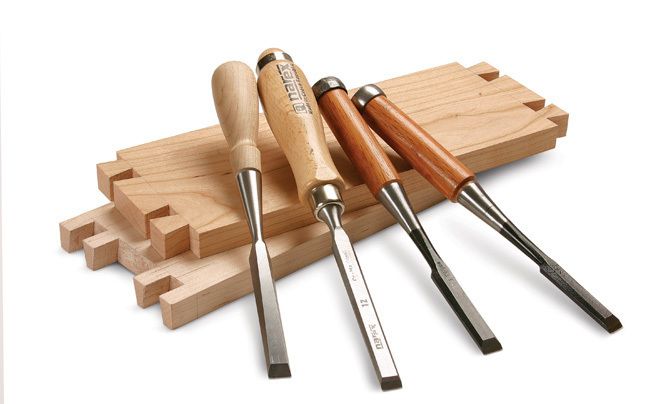 I ran 23 bench chisels through a variety of real-world woodworking tasks to find out which ones excel. I divided my test in to three parts. First, I examined each chisel out of the box, recording how much work it took to get it ready to cut wood. Second, I evaluated how each chisel performed on dovetail and mortise-and-tenon joints. Last, I checked how long the edge held up when chopping end grain, to determine how well it held an edge.
Here are the four that stood out from the pack:
Lie-Nielsen: Best Overall Western-Style. $50
The Lie-Nielsen was almost flawless out of the box. Its back was lapped flat and its beveled edges were milled and tapered precisely. However, it is the tool's size and feel that make this the ideal bench chisel. It's lightweight and balanced, yet stout enough for rugged work, in part due to its socket design. Its mid-range length is great for controlled detail work, yet its blade is long enough for moderate-range paring. The A2 blade's durability found a spot in the middle of the pack, but in spite of this, the ergonomics prevailed. $50.
Narex: Best Value Western-Style. $6
The Narex has a handle that's easy to grasp whether chopping with one hand or paring with two. The back of the chrome manganese blade was nice and flat and the edges were beveled sufficiently for excellent dovetailing. The cutting edge held up quite well. Given its price, it's the obvious choice for best value among Western-style chisels.
Matsumura Blue Steel: Best Overall Japanese-Style. $50
Made by a Japanese blacksmith who has been hand-forging chisels for 50 years, the Matsumura is finely crafted and was set to go out of the box. The wood in the handle's end is mushroomed to secure the hoop and create a comfortable pad for your hand. the blade held an edge with the best, and is slightly longer than the other Japanese blades. It 's moderately priced for such a high-quality chisel.
Grizzly: Best Value Japanese-Style. $14
The Grizzly is a diamond in the rough. Its back was slightly concave along its length, but this lapped out without much trouble. The end of the handle must be mushroomed over to set the hoop in place, so plan on 30 minutes per chisel for this task. The finish on the handle was a bit rough, but fine sandpaper and steel wool polished it in a minute or two. In use, the tool performed admirably, its edge held up nicely, and it's a real bargain.
For the complete results of the tool test, check the article from FWW #200.
To learn more about chisels, clock on these links: