Multipurpose Workbench is a Space Saver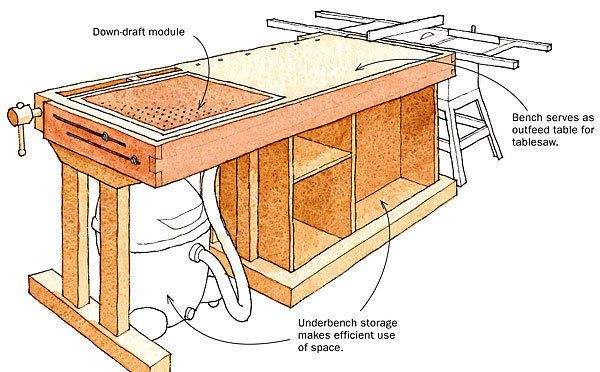 My entire shop must fit into half of my garage, so I have to make the most of the available space. Toward that end, I've built a workbench that also serves as an outfeed table for my tablesaw, and a power-tool workstation with interchangeable modules.
When in outfeed-table mode, I increase the support area for sheet goods by sliding out an extension. This dovetailed, U-shaped frame attaches to the apron of the bench. Slots in the front and back of the extension allow it to slide open 16 in.
At the far end of the bench, I've built a square opening that's designed to receive one of four tool modules: a down-draft sanding platform, a chopsaw, a bench grinder, or a router table.
Cleats inside the opening support the modules when they are dropped in. I built the chopsaw module so that the table of the chopsaw is even with the top of the workbench. My default is to keep the down-draft module in place because it does not interfere with the tablesaw or other operations on the workbench. When the modules are not in use, I store them in a rack on the back wall of my shop.
Drawings by Jim Richey

Drawings by Jim Richey