Fine Line Dresses Up a Drawer Front
Learn how to add fine stringing to a drawer face using shopmade tools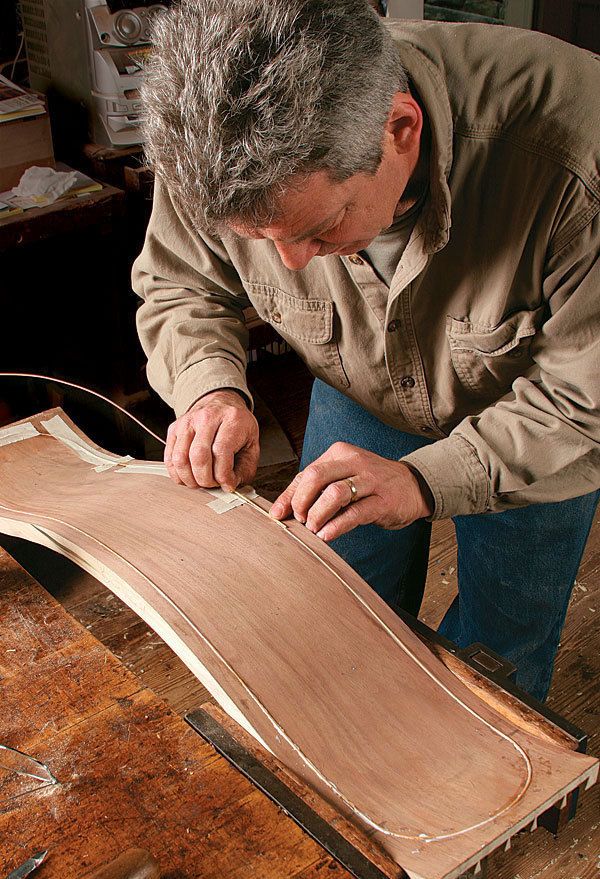 Synopsis: In this Master Class accompanying Jeff Headley's article on building a serpentine drawer front, Headley shows how to add a narrow oval of stringing to the drawer's face. He uses shopmade tools to cut a channel in the veneer that will hold the stringing, employing either a sharpened corner of a card scraper or a section of bandsaw blade for the straight sections, and a modified screwdriver for the curved areas. He then explains how to fit and install the fine stringing. The result is a delicately detailed drawer front that rewards close inspection and will impress woodworkers and nonwoodworkers alike.
Adding a narrow oval of stringing to a drawer face will impress woodworkers and friends alike. However, this is a case where less equals more: Lining, a delicate form of stringing, should reward closer inspection of a piece and not jump out at you like white road markings in a car's headlights.
On the other hand, bear in mind that the contrast may lessen as the fine line yellows, and some dark woods, such as walnut, fade with age. With these points in mind, for this piece I selected lining that is 1⁄32 in. thick by 1⁄28 in. wide, the smallest size available from Dover Inlay, but you could go with material as wide as 1⁄16 in.
The distance from the lining to the edge will depend on the size of the drawer or apron. The smaller the piece, the closer to the edge the lining should go. However, when lining a graduated set of drawers, keep the distance uniform on all the drawers. I chose to place the lining 11⁄16 in. From the drawer front's edges, but it will end up a shade under 9⁄16 in. From the inside of the cock beading.
Draw a pencil line 11⁄16 in. from the top and bottom of the drawer front, and then mark a similar distance in from the center of each side. Now connect the side points to the top and bottom lines with semicircles. Do this with a compass, protecting the drawer front by applying a piece of wood or veneer with masking tape.
Shopmade tools cut the channel
There are a couple of tools to cut the straight sections of the channel in the veneer. You can use the corner of a cabinet scraper with the burr removed. Clamp another drawer-front core to the drawer to act as a fence when scraping the channel. Alternatively, you can use a scratch stock with a built-in fence, with the scraper made from an old piece of bandsaw or scraper blade filed to the correct width.
From Fine Woodworking #199
For the full article, download the PDF below:
View PDF