Earlex Inc. - Tool Review of the Earlex HV5000 Spray Station Pro System
This Earlex HVLP system runs off a two-stage turbine. It's is a good value for an occasional spray finisher.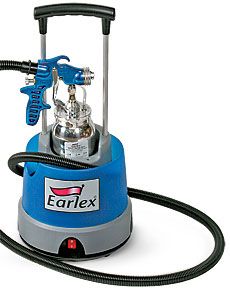 I had no trouble spraying water-based finish right from the can, with no thinner added. The fluid flow was ideal and the material atomization was sufficient to allow the finish to flow out into a smooth coating without any orange peel or mottling. I ran the same finish through 1-mm, 1.5-mm, 2-mm, and 2.5-mm tips and, other than a relative increase or decrease in fluid flow, I could see no real differences in the quality of the finish. That said, the water-based lacquer I used (Ultima Spray Lacquer; available at www.targetcoatings.com) is designed for production spraying, so the results with other off-the-shelf products might be different.
If you run a production shop and spray eight hours a day, this probably isn't the system for you. But for anyone spraying only occasionally or looking for an inexpensive alternative to brushes and rags, this system is a great value. The Earlex Spray Station sells for $325 at www.woodcraft.com.