Leigh Industries, Inc. - Leigh Super Jigs
The Leigh Super Jig--available with 12 in., 16 in., or 24 in. capacity--is a low-cost version of the DR4 dovetail jig. It cuts through, half-blind, and variable-spaced dovetails.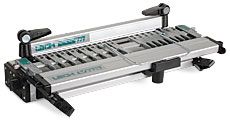 Leigh Industries recently released a new series of dovetail jigs. The Leigh Super Jigs are available in three sizes: 12 in., 18 in., and 24 in. The size represents the maximum board width they can accommodate.
The jigs are similar to Leigh's flagship D4R model, but their construction has been changed to make them available at a lower price.
I tested the 18-in. model to evaluate its performance. The dovetail spacing and the width of the tail are fully adjustable. However, a one-piece finger assembly (unlike the two-piece assembly on the D4R) means all pins must be the same width.
Adjustable tails and pins. Sliding fingers allow users to create any dovetail spacing. A square-drive screwdriver (supplied) secures them.
When it comes to cutting half-blind dovetails, Leigh took a new approach here. Like the D4R, these jigs can cut half-blind dovetails with variable spacing, but Leigh also adopted the more common and faster procedure of cutting equally spaced dovetails in both the tail and pin boards in the same operation. The Super Jigs accept stock up to 13/16 in. thick for through-dovetails, 1 in. thick for half-blind, while the D4R accepts 1-1/4 in. thick and 1-1/2 in. thick respectively.
All things considered, the Super Jig cut through-dovetails and half-blind dovetails as well as the D4R, and it was easier to set up. If you can live without the variable-width-pin feature of the $490 D4R, I suggest you take some pressure off your wallet and buy a Super Jig. The Super 18 sells for $260, the 12-in. model for $220, and the 24-in. for $330. For information, go to www.leighjigs.com.
Dovetail cutter. The Leigh Super Jig comes in three lengths; 12 in., 18 in. (shown with optional VRS vacuum and router support), and 24 in.