The Wood Butcher Papers: Episode 5
Hear how a railway baggage wagon inspired the design of a massive rolling cart for Mrs. Wood Butcher's herb garden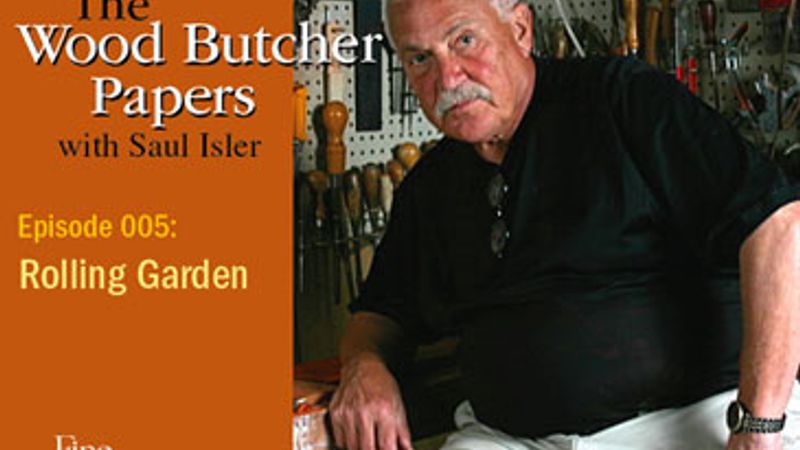 Saul Isler and Michael Dobsevage
When faced with the need to move dozens of tubs of fresh herbs around the yard to catch the sun, Saul Isler (better known as The Wood Butcher), found his inspiration in the age of railroading. Hear how he built a large rolling card, and what seems to be in his cart-building future.
 Subscribe to The Wood Butcher Papers audio series to be alerted when new episodes are available, and to download or listen to this series on your computer or portable music player. For a complete list of sharing features, visit The Wood Butcher Papers on Blip.tv. Or get the RSS Feed.
About This Series
During the late 1970s and early 1980s, Saul Isler was working as an ad man and operated a patent drafting business near his home in Cleveland. He was also a hobby woodworker producing a series of columns for the Saturday edition of the Cleveland Plain Dealer under the nom de plume The Wood Butcher, a federally trademarked name that summed up his columns precisely.
His musings as a hobby woodworker, homeowner, and all around enthusiast, hit home for many woodworkers because the struggles and triumphs Isler encountered in his shop, and wrote about, are things we can all relate to. Nearly 30 years later, Isler has resurrected his columns for a year-long audio series on FineWoodworking.com that we're calling The Wood Butcher Papers.