Best Finish for Pine
Thin layers of shellac and stain add age and warmth without blotching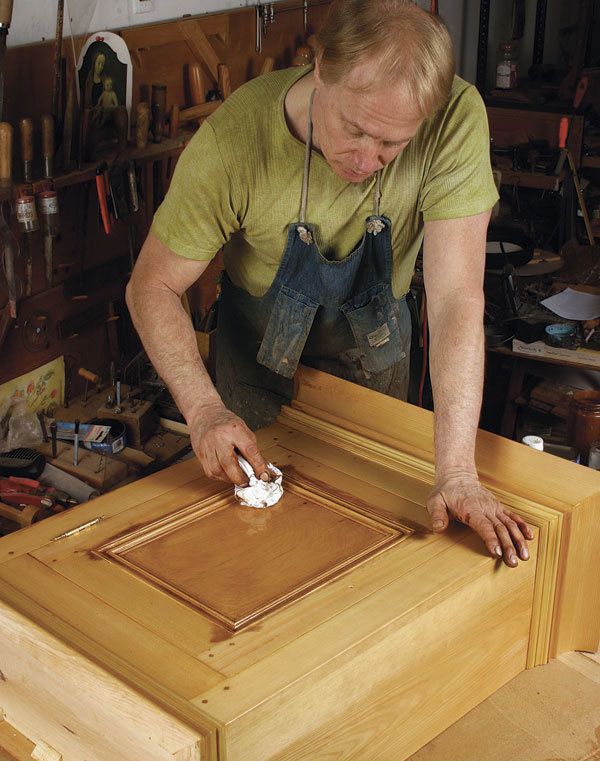 Synopsis: A beautiful, aged finish isn't difficult to achieve on pine, if you follow Tom Wisshack's formula for success. The furniture restorer and historian combines thin layers of shellac and stain to achieve a subtle feeling of age in his pieces. First, he lets the piece age naturally for several weeks. After that, he combines washcoats of shellac with a recipe for diluted stain to add color gradually. The secret ingredients are patience and a delicate touch.
I have never understood why so many woodworkers consider pine an inferior wood. I think it's one of the most beautiful woods available, and it only gets better with time, taking on a marvelous color and patina. But poor staining and finishing techniques have given pine a bad rap.
Pine does present unique challenges. You want the wood to look as if it has aged naturally to its present color. You'll never achieve that look if you apply stain directly to pine, because the color penetrates deeply and unevenly. Softer portions of the wood become very dark, while the harder and more resinous areas resist the stain. Worse, this blotchiness is irreversible. That is, the drastic measures you'd have to take to correct the blotchiness could ruin the piece.
Fortunately, you can achieve superior results if you apply thin layers of shellac and stain with patience and a delicate touch. When you wipe away the excess stain, some will remain in the crevices of moldings and joints, giving the subtle feeling of age that I prefer on pine.
Let the pine age naturally
I smooth my pieces with a handplane and polish them by hand with P600-grit wet-or-dry paper. If you use sandpaper alone, begin with P120- or P180-grit, then work up to P320- or P400-grit.
Whenever I build a piece from pine, I sand it and then allow it to stand in the shop for at least a month before finishing. Pine will take on a natural patina, which I call shop aging. When I apply the finish, the resulting color is always deeper and richer than it would be if I finished the piece right away, so a very light stain normally is adequate. Waiting for the wood color to change is a luxury, but the results are worth it. Applying a finish too soon after constructing a piece of furniture is, in my opinion, a mistake.
Seal the grain
A washcoat of shellac comes first. This serves as a sealer; it's essential to close the pores of the pine and provide a foundation for the stain. Shellac dries very quickly and gives the wood absolute clarity. You can stain over it and—what's critical—remove most or all of the stain if you make a mistake or don't like the look.
From Fine Woodworking #193
For the full article, download the PDF below:
View PDF