Work Sharp Tools - Work Sharp – Horizontal Disk Sharpening Machine
This sharpening system comes with two tempered-glass disks, a slotted see-through disk, and a variety of adhesive-backed papers that attach to the disks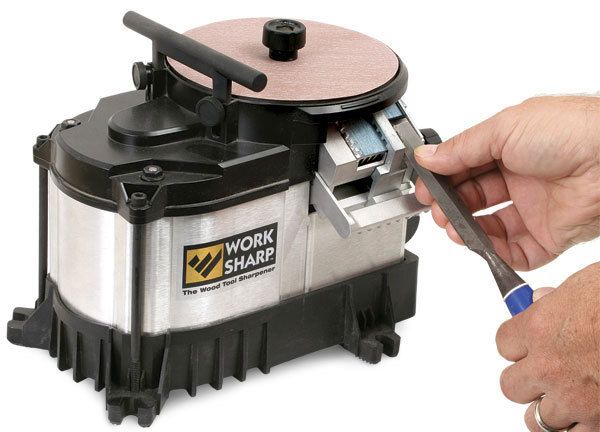 The Work Sharp horizontal disk sharpening machine is designed to sharpen most chisels and plane irons, as well as turning and carving tools. The machine comes with a basic kit that includes two tempered-glass disks, a slotted see-through disk, and a variety of adhesive-backed abrasive papers that attach to the disks.
To establish and hone the bevel of blades 2 in. wide or less, you work from underneath the disk through a sharpening port (see photo, above). On wider blades, you work from above on the tool rest. The blade is registered against the disk via an adjustable tool rest that can be set in 5º increments from 20º to 35º. An integral fence and guide rail keep the tool 90º to the disk. A small square of abrasive-backed paper on the rest is designed to remove the burr created by grinding. The blade is plunged into the spinning disk and pulled back along the rest to remove the burr. The slotted disks allow you to sharpen turning and carving tools from below while eyeing the edge from above.
The Work Sharp quickly flattens the backs of plane irons and chisels from above, although the smaller-diameter disk is not as versatile and easy to use as the more common 8-in.-dia. disks on other machines I've looked at.
Overall, though, the Work Sharp system performed well, producing edges sharp enough to shave arm hair, and has a reasonable price tag ($200). It is available at www.rockler.com.
Photo: Thomas McKenna