Teknatool International - Nova DVR-XP Lathe
Nova's DVR-XP heavy-duty lathe has 1.75 hp. It features a 16-in. swing, a 24-in. distance between centers, and continuously variable speed from 100 to 3,500 rpm.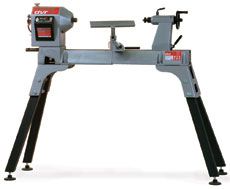 The Nova DVR-XP was among seven heavy-duty lathes I tested ranging in price from $1,200 to $3,200. I measured each for ease of speed control, vibration, lathe movement, power, tool-rest design, and ease of adjustment for outboard turning. I also evaluated the tailstocks and live centers, and tested how each lathe performed both on small and large workpieces.
The Nova DVR-XP is nearly identical to the lesser-priced Nova 1624-44. The difference is in the headstock and drive mechanism; The DVR has an excellent electronic speed control.
With the stock base, the Nova DVR can be jumpy when working with a large, out-of-balance bowl. However, it performed much better with an extra 250 lb. in sand bags added to the base. Nova provides plans for a bench that accommodates this extra weight.
The Nova DVR had no significant speed loss during our power tests. The tool rest showed no measurable movement. And its rotating headstock for outboard turning was among the best in its class. The Nova lathes also offer a beefy bolt-on outrigger to hold the tool rest.
The Nova models have a hollow quill and use a knockout bar to free the center. Many turners prefer the self-ejecting center. However, the hollow-quill design lets you thread a long auger bit into a turning, for drilling lamp bases and the like.