Jet - JWL-1642-EVS-2 Lathe
This 2 hp, heavy-duty lathe features a 16-in. swing, a 42-in. distance between centers, and variable speed in two ranges.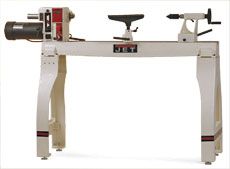 The Jet JWL-1642-EVS-2 was among seven heavy-duty lathes I tested ranging in price from $1,200 to $3,200. I measured each for ease of speed control, vibration, lathe movement, power, tool-rest design, and ease of adjustment for outboard turning. I also evaluated the tailstocks and live centers, and tested how each lathe performed both on small and large workpieces.
The Jet lathe is a solid performer and similar in many ways to its beefier sibling, the Powermatic. It has plenty of power. The headstock slides for outboard turning, and the spindle lock is spring-loaded, so it can't be left locked by accident. The Jet comes with a high-quality live center for the tailstock but its tool rest slipped slightly in our hammer test.