Powermatic - 3520B Lathe
The 2 hp heavy-duty lathe from Powermatic features a 20-in. swing, a 34-1/2-in. distance between centers, and variable speed in two ranges.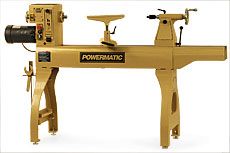 The Powermatic 3520B was among seven heavy-duty lathes I tested ranging in price from $1,200 to $3,200. I measured each for ease of speed control, vibration, lathe movement, power, tool-rest design, and ease of adjustment for outboard turning. I also evaluated the tailstocks and live centers, and tested how each lathe performed both on small and large workpieces.
The Powermatic was my choice for best overall. It is built like a tank, with the stoutest tailstock and the beefiest tool-rest base. This lathe also has plenty of power. Originally designed with the help of a legendary wood turner, the late Rude Osolnik, the 3520A was a good lathe with a few faults. The 3520B, designed with the help of Ernie Conover, did everything right.
The Powermatic was solid even when turning a large, off-balance blank. The lathe won't move when you begin turning a large bowl and take a series of interrupted cuts to make the blank round, and it showed no significant speed loss even with the maximum 40 lb. of weight applied to it during our stress test.
To set up the Powermatic for outboard turning, you slide off the tailstock and tool rest, move the headstock down to the tail end of the main bed, and bolt on a bed extension. It works beautifully. (watch the companion video below).
More from FineWoodworking.com: