William H. Macy: Woodturner
Read one editor's account of his day in the shop and on the set with the "Wild Hogs" star and bowl maker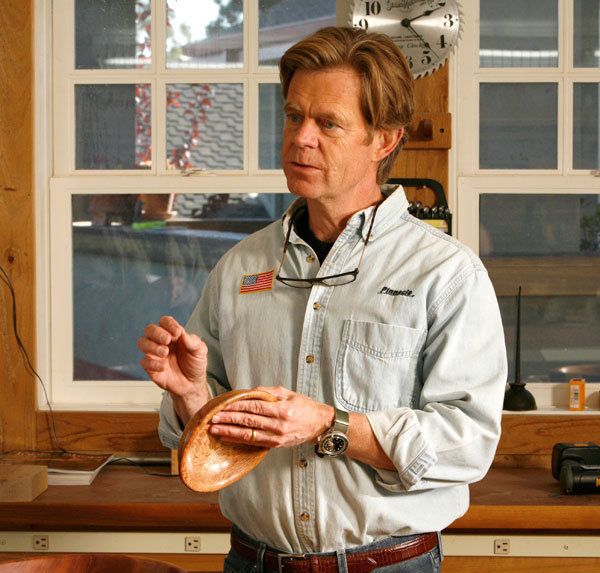 LOS ANGELES–I spent the day here interviewing actor William H. Macy for an article scheduled to appear in Woodturning Basics, a newsstand-only publication from the editors of Fine Woodworking that's due out in May 2007.
Macy, it turns out, is an avid amateur woodturner in addition to being a big movie star. He first discovered wood turning while filming his breakout film "Fargo." He's also a big fan of Fine Woodworking magazine, so he was pleased to accept my request for an interview when I contacted his representative.
For most of the day, Macy was just one of the guys, dressed in jeans and a denim work shirt, messing around in his woodshop making a bowl. But in the late afternoon, he went back to celebrity mode, changing into a patterned shirt and a light tan suit for an appearance on CBS's "The Late Late Show with Craig Ferguson."  
I accompanied Macy to the taping at the CBS studios, watching the show on a monitor in the green room. Macy spent close to half of his 10 minute guest appearance talking about woodturning and paying Fine Woodworking a unique compliment.
Macy presents a bowl to Late Late Show host Craig Ferguson during a recent appearance. Photo: Courtesy CBS.
MACY: "…They're doing an article on me. Fine Woodworking, which is the Penthouse for guys over 50."
FERGUSON: "An article on you? Will you get the cover or the center-page spread."
MACY: "I'm hoping to get the cover… There's talk that it might go to a router, but I'm hoping I get the cover."
FERGUSON: "And why would you be in Fine Woodworking? Are you a fine woodworker?"
MACY: "I. Turn. Bowls."
FERGUSON: "You turn bowls? Is that some kind of euphemism for something?"
MACY: "That's burning bowls… This is called turning bowls. I turned a bowl all day and they took pictures of me. It was one butt ugly bowl. I was going to make it and bring it to you but it was just the worst bowl. It didn't know if it was a bowl or a plate. It was a plowl."
William H. Macy turns a bowl in his home workshop during an interview with Fine Woodworking.
Macy, in fact, did get the cover. And he did bring a bowl with him to the show, presenting it to the host later during his interview. Ferguson gleefully accepted.
"You know what I'm going to use this for?" Ferguson said. "Cashews. I'm going to have it out here on the desk and when guests comes out I'll say 'have a cashew. Bill Macy made this bowl.'"
David Heim is an associate editor with Fine Woodworking magazine.
Photos: Dean DellaVentura Photography unless otherwise noted