Rojek - MSP 315 Jointer/Planer Combo Machine
Rojek's MSP 315 jointer planer features standard cutterhead knives, a Euro-style cutterhead guard and a 59-in.-long jointer bed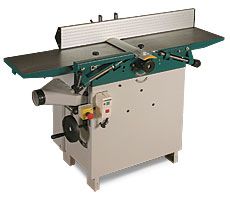 I looked at the four jointer/planer combinations that are moderately priced and readily available. All four combo machines delivered excellent results in my tests. Using maple, white oak, and cherry, I face-jointed and edge-jointed long, wide boards without difficulty, and planed boards with no snipe. These combo machines don't sacrifice performance, and they don't command a steep premium.
The Rojek's MSP 315 model uses a 12-in.-wide cutter head, with a 59 in. long jointer bed. This is a moderately priced, no-nonsense machine that performs well. The jointer table is a generous 59 in. long. But the Rojek lacks some of the refinements of the MiniMax and the Hammer.
For one, its standard cutterhead knives, held in place with traditional jackscrews and locking gibs, take time and patience to install accurately. Rojek supplies a decent dial indicator to help set the knives. You can also outfit the machine with a Tersa cutter head, an option that I recommend.
For another, the 315 must be plugged in to change the knives. A switch setting lets you override a motor brake and rotate the cutterhead; it doesn't work if you unplug the machine. I dislike that type of design because of the chance-however remote-that you could accidentally start the machine.
The third big shortcoming is changeover time. I averaged 1 minute, 20 seconds, time spent mainly moving the planer bed the 7-1/2 in. (90-plus cranks) required to accommodate the dust hood.
There were other, minor annoyances. The power switches, on the left end of the front panel, are in a slightly inconvenient position for planing because you have to reach around the forward-tilted tables to hit the switch. And the instruction manual is the worst of the lot.
Photo: David Heim