Great Gifts for Woodworkers
Editors share gift ideas and items on their wish list from cool power tools to basic hand tools you shouldn't live without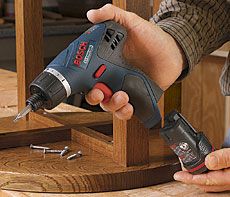 One great thing about having a woodworker on your gift list is that there is no shortage of must-have tools that any woodworkers would want. We asked the editors of Fine Woodworking what they had on their wish list and gift list this year and came up with this collection of ideas that are perfect for last-minute shoppers.
Pocket-size driver is a must have
Any carpenter, woodworker, or DIYer would be tickled to get the new Bosch PS20 Cordless Screwdriver this holiday. Designed to do one important thing very well, this dedicated screwdriver uses a lithium-ion battery to pack 10.8 long-lasting volts into a palm-fitting package.
"This is one of those tools the first time you pick up you know instinctively is just right," says Mark Schofield, Fine Woodworking's managing editor, who already added the drill to his tool box. "It's small enough to fit comfortably in your hand, light enough not to break the pocket on your apron, the balance feels just right and the power-to-weight ratio is amazing."
Don't let the low voltage throw you; in our testing this tool drove 167 long screws on a single charge, and the torque knocked the socks off an elderly 12v cordless drill we had in the shop. "My only gripe is the click-change bit holder," Schofield notes. Rather than the more versatile Jacobs chuck that can hold bits and drivers of a variety of sizes and styles, this one is limited to special hex-shaped bits.
Still, this driver is well-worth its street price of $120 and is a the top of my wish list. – Asa Christina is the editor of Fine Woodworking magazine
Ode to the small chisel 

I love my set of four stubby little all-purpose butt chisels from Crown, and I bet the woodworker on any Christmas list will too.
Bob Smalser, who wrote "All About Chisels" in Fine Woodworking #181, called this type of chisel a tool-box standard, and now I know why. They're only about 6 in. long, so they're easy to carry and a dream to use. For me, their short blade makes them very controllable; their bulbous walnut handle fits my palm perfectly and is a pleasure to hold. Although moderately priced, they are very nicely made, ready to use with a light honing, and the blades hold an edge nicely. – David Heim is Fine Woodworking associate editor
A perfect gift to keep you square
In my shop, perhaps the strongest testimony to a tool's value is when it earns a permanent place in the pocket of my shop apron. That well-worn pocket, with its limited space, is reserved for smallish tools that get regular use when I'm in the shop.
Among those pocket tools, and one that might not seem obvious because of its diminutive size, is a 2-in. machinist's square. Indeed, it's been at home in my apron pocket for so long, and it's used so often, I now reach for it without a conscious thought.
Thanks to its small size, this little all-steel tool is perfect for checking square on short surfaces like the kind you find on small parts or narrow stock. (Even when you're making a big furniture piece, there are always plenty of small parts in the mix.) The tool is also great for marking a square line across the stock that measures from about 1/4-in.-thick up to around 2-in.-thick. Another plus; you won't have to spend a lot to get one — about $10. And it will fit easily into a stocking hung by the fireplace. – Tom Begnal is a Fine Woodworking associate editor
A lathe that fits under the Christmas tree

Mini-lathes are so affordable and space-efficient these days that they are within reach for woodworkers who wouldn't have considered spending the money or dedicating the shop space to them before. They are also great for people like me: after taking my first wood turning class I'm eager to get a lathe of my own.
The Rikon 70-100 Midi-Lathe is on my Christmas list because it doesn't cost a lot ($250) and it has a capacity that comes pretty close to a lot of the larger lathes (12-in. swing, 16-in. between centers). For a beginning turner like myself, that's a combination that is very hard to resist. – Elizabeth Healy is the copy editor at Fine Woodworking
Searching for a better wood clamp
It's true that no woodworker can survive without lots of clamps, so I'm always in the market for more. And because most clamps are cumbersome even when used properly, I'm especially interested in newer models that do the job more efficiently than their predecessors. 
From what I've been reading, the new Jet Parallel clamps are a big improvement over the K-bodied clamps we're all so used to.So this year, my Christmas wish list includes a set of four 48 in. Jet Parallel clamps. – Charlie Reina is Fine Woodworking associate editor
A gift that's on the mark

I already own a Tite-Mark marking gauge from Glenn-Drake Toolworks, but for any woodworker who doesn't, this is one gift that will be appreciated for years to come.
The Tite-Mark has led the way with this unique wheel-style marking gauge design that features a micro-adjustable fence and a retractable blade that sits in a recess for storage. It is designed for use with one hand and is extremely accurate.
The blade is made from A-2 tool steel and comes out of the box honed and ready to use. It can quickly and easily be re-honed to continue making crisp lines. Glen-Drake also makes paired mortising blades that can be mounted and used on the marking gauge, maybe I'll have to add that one to my Christmas list. – Anissa Kapsales is Fine Woodworking assistant editor
Miter clamp lives up to its name
The Collins Miter Clamp is the best holding tool I've ever used for joining miters. Whether I'm making picture frames, small boxes or putting up trim molding, the tool does the trick. The sharp points of the spring clamps leave little divots, less pronounced than the damage of an 18-ga. nail gun. For trim work, this is not an issue. For fine furniture, you can plane or sand away the damage.
I bought mine at a woodworking show, but you can get them online at Highland Hardware. The spring clamps can be wrestled into place by hand, but I highly recommend buying the plier-like tool for quick, painless work. Pack of clamps and tool will cost less than $30. – Anatole Burkin is the publisher of Fine Woodworking