Lie-Nielsen - Custom-Made Workbench
Lie-Nielsen's custom workbench is built to order and can be adjusted in features and size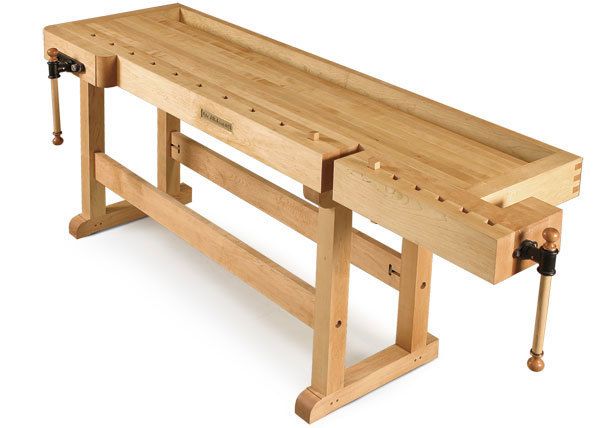 Order one of these benches and you're unlikely to see its identical twin: Like a bespoke suit from Savile Row, each product is custom built to fit the owner's needs and desires. The owner can specify a top up to 8 ft. 4 in. long and 24 in. wide, with or without a tool tray, and any height. The tail vise can be positioned at either end, or you can specify a twin-screw tail vise at one or both ends with a double row of dog holes.
We ordered a traditional style of bench that was higher than most. Not surprisingly, 6-ft. 3-in. Rodney Diaz, an associate art director, loved the height, but a surprising number of sub-6-ft. editors also found this height more relaxing to work at. Both vises earned high marks for their German hardware and their beautiful handles, which come complete with rubber O-rings to stop the turned cherry knobs from banging against the metal. The 50/50 boiled linseed oil and turpentine satin finish achieved the right balance of protecting the wood and being renewable.
This bench felt like it had been designed and built by a woodworker, and I think we'd all love to be able to boast that we'd made it ourselves. I suspect that this reason as well as the quality and the features made it our choice as best overall.