Shape Chair Seats with a Router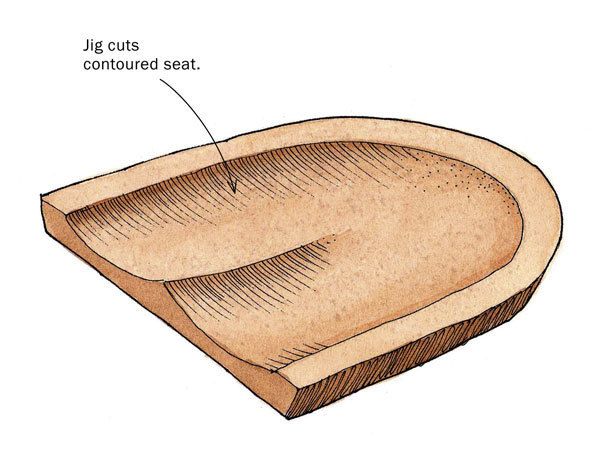 The purpose of this fixture is to shape wooden chair seats so that they fit the body. The outside tracks of the base are higher at the ends and lower in the middle to match the desired profile of the chair seat. The outside tracks are used with the back cross-carriage to shape the seat's back. The inside tracks are used with the front cross-carriage to shape the pommel (front).
The back cross-carriage has a smooth concave shape and extended ears to ride on the outside tracks. The front cross-carriage has a double concave shape and shorter ears so that it rides on the inside tracks. The auxiliary router base rides on the cross-carriages.
To use the fixture, position the seat blank in the base and tighten with threaded knobs. Install a bowl-and-tray router bit (available from Amana; part No. 45986; www.amanatool.com) in your router and bolt the router to the auxiliary router base. Place the router in the back cross-carriage and adjust the depth so that the bit takes a light cut. Standing at the back of the chair seat, push the router forward to take a light cut. Step the router a small increment to one side and repeat the cut. Continue until you have scooped the entire seat at that depth. Now lower the bit about 1/16-in. and repeat the process. Keep repeating until the depth of the scooped area is 3/8-in. or more. Leave a flat area for spindle holes.
Now remove the back cross-carriage and replace it with the front cross-carriage. Repeat the process to shape the pommel at the front. While routing, it is a good idea to install a small C-clamp at the back end of a track to prevent pushing the cross-carriage off the end of the track and gouging the seat.
After careers in education and real estate, Bill Garner returned full-time to woodworking, where he has concentrated on building and restoring period furniture. In a class on Windsor chair making, he learned that making the seats by hand was labor-intensive. He built this jig to speed up the process.
Drawings by Jim Richey.

Drawings by Jim Richey.