Three Small-Shop Solutions
When workspace is at a premium, create convertible spaces and make your tools mobile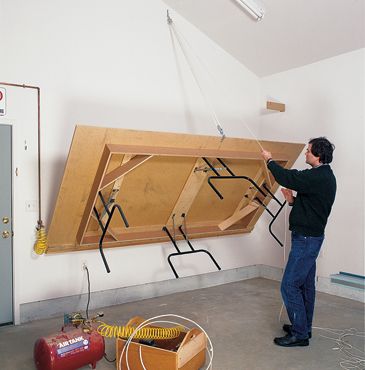 Not every woodworker is lucky enough to have a space to call his or her own 24 hours a day. There are a great many woodworkers and DIY weekend warriors who share their shop space with the family car. Compactness and mobility are the key elements for keeping a shared space quick and easy to convert from one use to another.
Here are three smart solutions from my book Setting Up Shop, Revised that can turn any small space into an efficient workshop.
A Smart Folding Table
Seattle-area furniture maker Curtis Erpelding has done one better than a simple folding table. His large, vacuum-clamping worktable, built from a sheet of particleboard and four folding-leg assemblies, is hinged directly to a wall and tilts up and out of the way when not in use (as shown in the photo above). Instead of relying on sheer brawn to wrestle with the heavy table, Erpelding rigged up a block and tackle, which allows him to lift and lower the brawny table with ease.
Build your own mobile bases
Shop-built wheeled bases can be made for practically any type of machine. But unless you're up to the task of constructing some kind of wheel-retraction mechanism, it's much easier to make a two-wheeled base that tips up for moving.
Lighter machines, such as scrollsaws and bench grinders, and benchtop machines can be mounted on shopmade platforms that ride on regular locking casters (the kind with rubber wheels, available at most hardware stores). Pat Curci's scrollsaw, shown in the photo at right is mounted on a simple plywood stand fitted with a trio of wheels that must be locked before the machine is ready for use. Using all pivoting-type wheels, instead of a combination of fixed and pivoting wheels, will allow you to move the machine in any direction.
Shop surfaces do double duty
Some of the most important decisions in laying out a shop involve the placement of basic machines, such as the tablesaw and jointer. Deciding where to put them depends, in part, on the scale of woodworking you do, which then determines the necessary clearance area around these machines for handling long stock or large sheetgoods.
Building your tablesaw into an extension table that surrounds it on three sides, as Curci did in his small San Diego shop, offers lots of support when cutting full sheets of plywood; it also provides a large work surface adjacent to the saw.
Excerpted from:
Setting Up Shop, Revised
by Sandor Nagyszalanczy
The Practical Guide to Designing and Building Your Dream Shop. With the expert advice of professional woodworker and author Sandor Nagyszalanczy, you'll make the right choices to fit your space and budget.
Photos: Sandor Nagyszalanczy