Glen-Drake Toolworks - File Burnisher
Glen-Drake's file-burnisher has three working surfaces: a flat, extra-fine file, a flat burnisher, and two rounded, narrow edges for concentrated burnishing.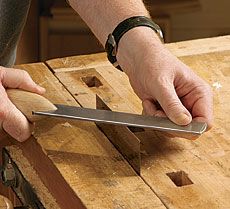 The File Burnisher from Glen-Drake Toolworks is a combination tool for sharpening a card scraper, cabinet scraper, or scraper plane. One face of the tool is a very fine (70 tpi) file used to joint the scraper edge. The other face is a polished, flat burnisher used to create the cutting burr on the edge of a scraper after filing. The tool edges are rounded and polished as well, which is helpful if more concentrated pressure is needed to roll a burr during burnishing.
The working portion of the tool is 7 in. long and fitted with a comfortable, easy-to-grip wood handle. I worked with the tool for a few hours, trying it on a number of scrapers. Using one tool for a dual purpose is a convenient and efficient idea, but I had some issues with Glen-Drake's offering.
The burnisher worked well; however, the extra-fine file cut slowly and tended to clog with filings pretty quickly, which made it hard to get consistent results from scraper to scraper.
The tool is available from Hartville Tool (www.hartvilletool.com).
Chris Gochnour is a woodworker and hand-tool aficionado near Salt Lake City.