Tool review: M.Power Side by Size diamond stones
Dave Fisher tests a trio of stones and strops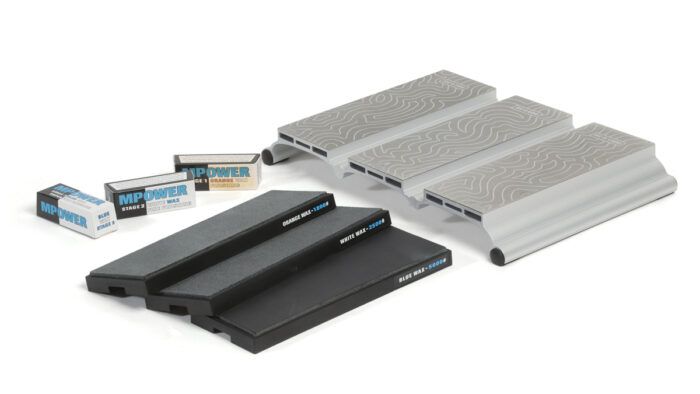 M.POWER's Side By Side (SBS) diamond stones and leather strops are a reliable sharpening setup. The SBS's aluminum base solidly holds six sharpening surfaces, three diamond stones and three strops, and allows for efficient movement from coarse to fine. Everything, including the strop compounds and stone lubricant, fits into a heavy-duty storage case. 
The stones and strops measure 3 in. wide by 8 in. long. The diamond stones' grits are 300, 600, and 1200. The polishing compounds' are 1800, 2500, and 5000. The strops are leather attached to plastic covers that slip over the diamond stones and use magnets to stay in place. 
I was able to quickly reshape a bevel on the coarsest stone, then proceed through the finer stages to get very good results with plane irons and chisels. The system also worked well for carving gouges with the addition of a slipstone for the inner flute. The strops and compounds worked surprisingly well. The first two strops are particularly firm to minimize rounding of the cutting edge. As the finest diamond stone breaks in and becomes finer, even less follow up on the strops should be required. The final strop left a mirror polished surface.
For sharpening sloyd knives, the SBS does not allow good access to the middle stone. Also, since the stones are attached to the base, it was not possible for me to take the stones to the tool as I do when I sharpen adzes, axes, and drawknives. 
—Hand-tool woodworker Dave Fisher gets a mirror polish in Greenville, Pa.
Photo: Barry NM Dima