Makita - BO5012K Random-Orbit Sander
The Makita 5 in. palm sander features a 2.0 amp motor that adjusts from 4,000 rpm to 12,000 rpm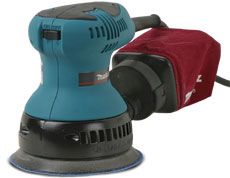 The Makita sander was the easiest sander to control in Andy Engel's tool test and it did not move the workpiece. The light and wieldy tool is a good choice for jobs off the bench but it produce an odd, whiny noise when sanding.
To measure the sander's aggressiveness, Engel sanded a poplar board for five minutes and measured how much wood was removed. The Makita sander removed eight grams of stock over the five minutes but when the vacuum was attached it only removed seven grams.
Engel also sanded clear Plexiglass to compare the sanders' scratch patterns. The Makita sander had an excellent scratch pattern. In general, Engel found that the machines with the most uniform scratch pattern tended to be the most aggressive. With vacuum attached, the sander collects 100% of external dust.