A Woodworker's Kitchen
Save money and show off your craftsmanship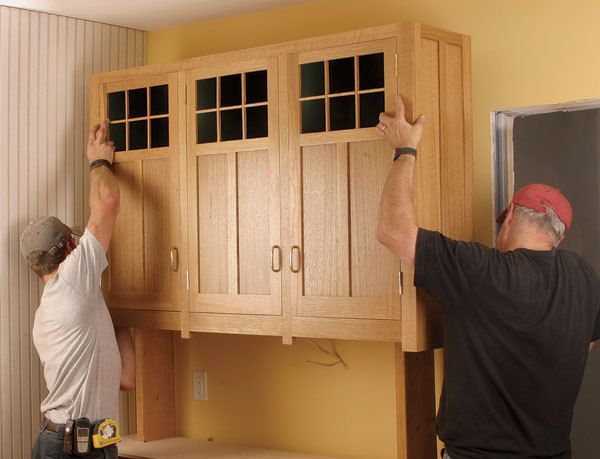 Synopsis: Making your own kitchen cabinets is a rare chance to get more by spending less. A woodworker can spend less than buying cabinets from a showroom, but with the opportunity to choose materials and tailor cabinets to suit your needs, you can get a better end result than anything money can buy. Scott Gibson is an old hand at cabinetmaking. His technique blends a quick assembly method using biscuits, glue, and screws to make the boxes, with fine-furniture details such as inset drawers and doors for the look of fine furniture.
Making your own kitchen cabinets offers one of those rare chances to get more by spending less. It's far less expensive than ordering cabinets from a showroom, yet the result should be better than virtually anything you can buy. Think of a set of cabinets as a room-size piece of furniture. You choose the materials you like and steer the project wherever you want creatively. In the end, you get a kitchen that's been tailored to suit your tastes and meet your needs exactly.
Building cabinets isn't complicated, although it can seem repetitive at times. It requires only the tools that most home woodworking shops already have.
I have three or four books that explain how to make cabinets, all of them a little differently. My approach is a mixed bag that includes some fussing over details but also relies on assembling cabinet boxes and drawers quickly with biscuits, glue, a few screws, and pneumatic nails. I use inset drawers and inset doors with butt hinges for a fine furniture feel.
I'd never argue that my approach is the only way, but it will give you strong, durable, and attractive cabinets that are easy to adapt to kitchens of different architectural styles.
Planning early prevents headaches
Taking enough time to plan the project is the key to creating a great-looking, truly functional kitchen. Before you touch a piece of stock, develop a floor plan showing cabinet locations and dimensions and a detailed map of where you want everything to go. That includes canned vegetables, cutlery, the coffee pot, your beloved Kitchen Aid mixer, recycled newspapers— everything. If you're planning a kitchen with your mate, this is the time to decide together how the space should be used. Don't miss a chance to make the kitchen completely your own.
Kitchen design is a complex trade, and there are a variety of sources available for industry standards on cabinet sizes and heights, and recommended distances and clearances between cabinets and appliances. For more information, visit the National Kitchen and Bath Association at www.nkba.com.
One of the first steps is deciding how to break up runs of cabinets into smaller, more manageable units. I'd rather not move anything longer than about 60 in. because it is heavy and awkward.
In this kitchen, the peninsula that includes the dishwasher, sink, and butcher-block food prep area calls for about 80 in. of cabinets. I split that into two pieces, one cabinet for the sink and an adjacent cabinet for storage.
From Fine Woodworking #185
For the full article, download the PDF below:
View PDF