Bosch - 1295DVS Random-Orbit Sander
The Bosch 5 in. random-orbit palm sander features a 2.2 amp motor with variable speed of 7,000 rpm to 12,000 rpm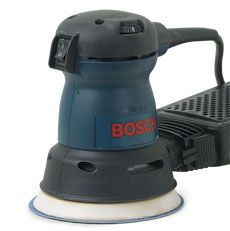 The Bosch sander was easy to control but did move the workpiece in testing. Engel also measured the sander for aggressiveness by sanding a poplar board for five minutes and measuring how much wood was removed. Then he measured the amount of dust the sander collected. The Bosch sander removed 10 grams of stock over the five minutes and 13 grams when the vacuum was attached.
In addition, Engel sanded clear Plexiglass to compare the sanders' scratch patterns. The Bosch sander had an excellent scratch pattern. Engel found that the machines with the most uniform scratch pattern tended to be the most aggressive.
Those with weak hands may have difficulty attaching the vacuum adapter for the Bosch sander. The adapter is not included. With vacuum attached, the sander collects 90% of external dust.