Sunhill Machinery - Oliver 10-in. Cabinet Saw 4015
This new Taiwan-made saw comes with the old Oliver name.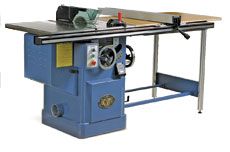 The author looked at 13 popular 3-hp, 220v 10-in. cabinet saws. In addition to evaluating the saws for power and safety, he also tested for tabletop flatness, for runout at the arbor shaft and arbor flange, and for parallelism of the blade to the miter slot. He found that all the saws offered plenty of power, solid rip fences, smooth controls, and flat tabletops. The Oliver 4015 comes with an old U.S.A.-made name on a new Taiwan-made saw. It offers a digital readout for blade tilt, and an extension table and legs are optional.