Secret Spaces
Create hidden compartments that fool the eye and keep your valuables secure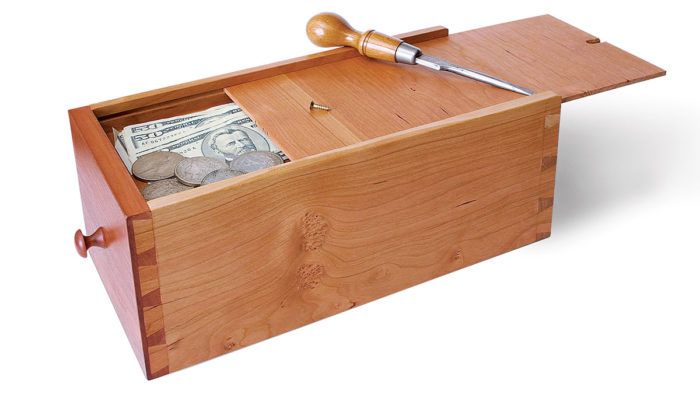 Got something to hide? It really is possible to incorporate secret compartments into any style of furniture, taking advantage of dead space inherent in the design or subtly altering your plans to create a space and an entry mechanism that only you and those you trust will know about.
A hidden compartment hidden away
On Christian Becksvoort's double-bottomed drawer, the gap between the two bottoms is large enough to hide some some notes and coins. One of the simplest hidden compartments is a shallow space below the main drawer. This trick, which has withstood the test of time, can conceal anything from a lover's letter to some rainy-day funds. To lessen the chance of discovery, keep the hidden compartment shallow. Photos: Erika Marks.
A hidden compartment in full view
Behind the center toe kick of this bookcase is a shallow but wide drawer. Even in a piece as open as a bookshelf, it is possible to hide a compartment. In the large bookshelf designed by Andrew Parker, woodworking instructor at the Oregon State Penitentiary, no one would think of checking the toe-kick boards. The center board, however, is the front of a drawer that slides out, revealing a shallow space for storing documents. Photos: Mark Schofield.
Mark Schofield is a senior editor at Fine Woodworking.
Excerpted from Fine Woodworking #159. Join FineWoodworking.com to read the complete article "Secret Spaces."
View PDF