A Society Dedicated to Furniture
A collective of studio furniture makers carries on the business and craft of woodworking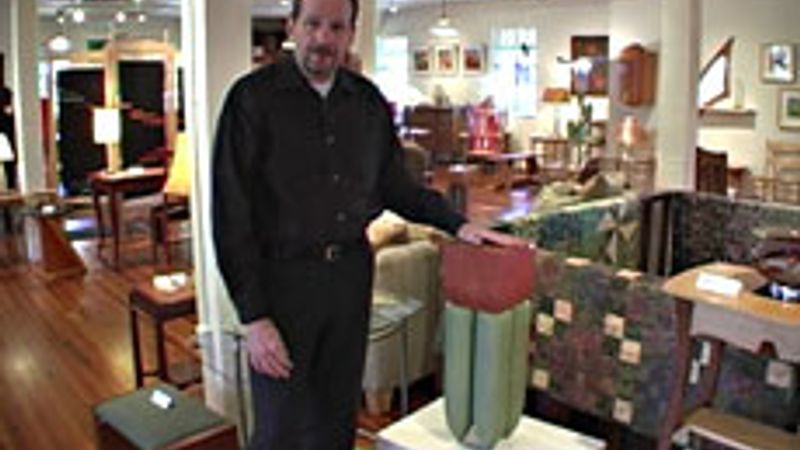 Michael Dobsevage and Gary Junken
The Furniture Society is a collective of furniture makers dedicated to the convergence of art, academics, and good old-fashioned sawdust making. Its members build pieces in which smart design and quality craftsmanship prevail. Loosely known as "studio furniture," the genre covers everything from sculptural forms to modern interpretations of period furniture. 
In this video, Andrew Glasgow, the executive director of The Furniture Society, offers a tour of the Grovewood Gallery in Asheville, North Carolina. A popular destination for furniture aficionados, the gallery exhibits hand-crafted work by leading makers around the U.S. and Canada, including a handful of Furniture Society members.
Glasgow shows off the work of New Hampshire furniture maker Peter Maynard, who builds furniture in the Arts and Crafts revival style; Chris Bowman, an art furniture maker with a bent toward the whimsical; James Probst, who builds custom furniture in West Virginia; and Michael Brown, a North Carolina woodworker who builds contemporary versions of the Windsor chair.
The Grovewood Gallery is also host to the administrative office of The Furniture Society, a 10-year-old non-profit organization. It is here — surrounded by the hand-crafted furniture it aims to promote — that the group plans exhibitions and its annual conference dedicated to the business of custom woodworking. More information is available online at www.furnituresociety.org.
April 10, 2006