Veritas - Mk. II Power Sharpening System
The Mk.II from Veritas is a well-performing slow-speed sharpening system that uses 8-in.-dia., grit-covered disk.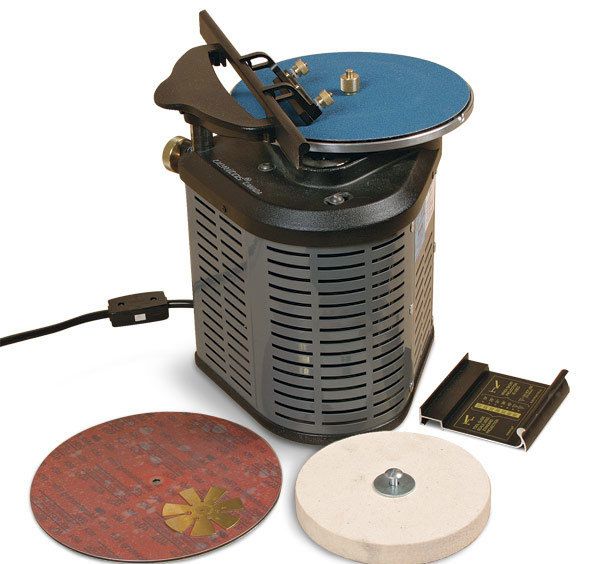 The Veritas spins an 8-in.-dia., grit-covered disk at 650 rpm. The standard machine comes equipped with two dead-flat, stable aluminum platters, each with a different grit of sandpaper on both sides, with 9-micron (1,200-grit) paper the finest grit. As with the Lap-Sharp, a thumbscrew allows the platters to be changed out quickly. A great touch on the Veritas is that the two aluminum disks are of different thicknesses–4 mm for the coarse abrasives and 3 mm for the fine abrasives–creating an automatic 1° microbevel when you are using the tool holder and switch disks. The tool holder works for both straight-edged tools and skew chisels, both short and long blades.
I opted for the accessory felt wheel ($25), which is charged with honing compound ($7) and used freehand to deliver an edge equal to one honed on an 8,000-grit waterstone.
The Mk.II is a solid machine. Under heavy pressure, the disk spins smoothly and quietly at full speed. The cutting action is fast and aggressive, so it requires careful technique to get even results when flattening and polishing the back of a blade: Touch down an area far from the edge first, and then lower the leading edge onto the disk.
For working on bevels, the entire tool holder assembly is simple, solid, and well thought out. Because the machine works dry and can be left set up, periodic touchups can be completed quickly. Curved-edge tools can be guided by rocking them on the tool rest. While this is not an ideal approach, with a little practice I was able to put a uniform edge on basic turning and carving tools.
The downside to this machine is the continuing cost of abrasive disks, which are $2.95 each. However, the finest grits will last for 20 to 30 sharpenings, and the coarser disks much longer