Up for Bid: Jimmy Carter's Handmade Cabinet
The former president and woodworker to auction off persimmon cabinet at Carter Center benefit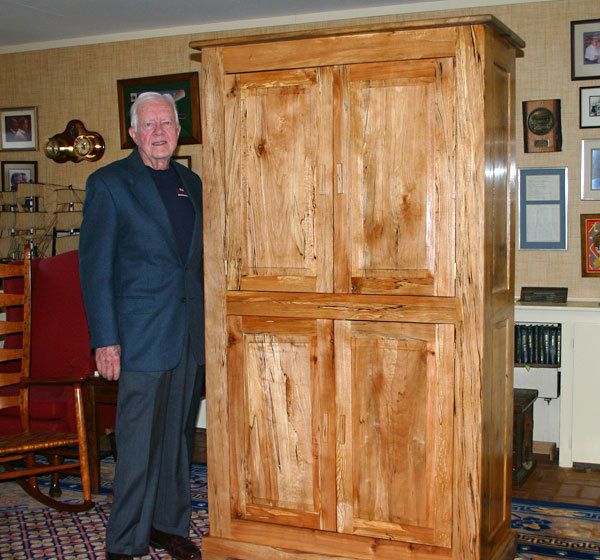 The 39th president — well-known for his cabinetmaking and house-building skills — has designed and built a 6-ft. tall cabinet from antique persimmon to be auctioned in February at a benefit for the nonprofit Carter Center. The piece is the first he has made for these fundraising auctions in three years.
President Carter's furniture and other memorabilia regularly fetch $50,000 to more than $300,000 at auction. The persimmon cabinet is valued at $100,000. It will be sold in a live auction on Feb. 4. However, a period of online bidding is open now; potential bidders can access the catalog or place bids by going to www.cartercenter.org.
| | |
| --- | --- |
| | |
| | President Carter assembles a frame-and-panel door. |
| | |
| | |
| | The long-time woodworker engraves his signature on all of his furniture. |
"Since leaving the White House, I have designed and built more than 100 pieces of furniture, and this cabinet is one of the most interesting and challenging." President Carter said in a press release. The Carter Center terms it "by far the largest heirloom ever made for the auction." It measures 6 ft. tall, 41 in. wide, and 19 in. deep.
Well known for his humanitarian efforts, President Carter has also built a strong following in the woodworking community, having been featured several times in Fine Woodworking and other woodworking magazines. He also has befriended many well-known woodworkers.
"I consider myself fortunate to have a personal friendship with Sam Maloof, whom I consider to be the world's finest woodworker," he wrote in a December 2004 article in Fine Woodworking. "His integrity and personal philosophy are demonstrated vividly in the design and beauty of his furniture, and my visits with him have always been inspirational.
"I've never attempted to emulate the flowing artistry of his work but am satisfied knowing how to build pieces with square corners and simple joints," he wrote.
The auction also features a number of pieces of Carter memorabilia, including two bottles of his homemade, private-label wine; rare prints of a President Carter painting; and an historic photo taken in Haiti in 1994 and signed by President and Mrs. Carter, former Secretary of State Colin Powell, and former Georgia Senator Sam Nunn.
All the proceeds from the auction will support the Carter Center. Founded in 1982 in partnership with Emory University, the Center has observed more than 60 elections in 25 nations, helped farmers in 15 African countries increase crop yields, and worked to control or eradicate diseases in Africa and Latin America.
January 26, 2006