Pro Portfolio: Second Life as a Woodworker
An architect turned furniture maker talks about changing careers and the furniture that inspired him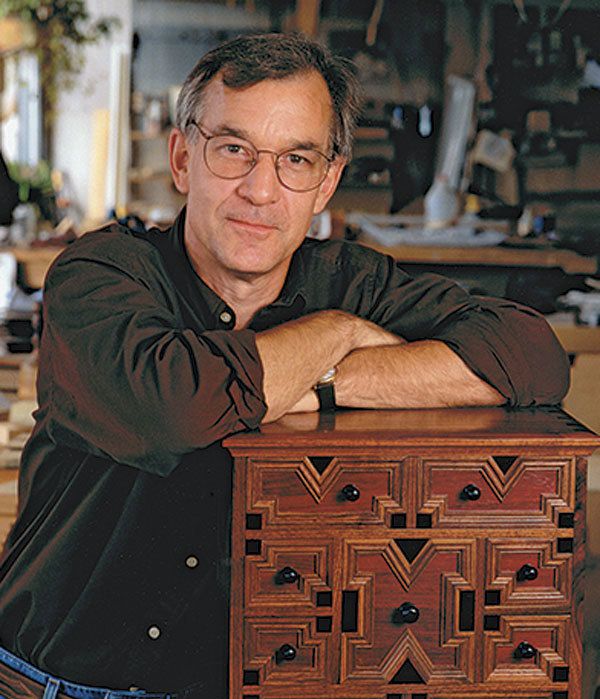 Miguel Gómez-Ibáñez leapt from a solid career in architecture to an unknown future in furniture making one day in 1996. In this audio slideshow, Gómez-Ibáñez talks about his careeer change and shares photos from his portfolio of work.
From buildings to boxes
In the early 1970s, Gómez-Ibáñez studied architecture under the Modernist master Louis Kahn at the University of Pennsylvania. Twenty years later, he had a thriving architectural practice of his own in Boston. But then one day he looked into the Boston Architectural Center and saw a show of furniture by makers from the North Bennet Street School. Examining the pieces, period reproductions and interpretations displaying the elevated craftsmanship typical of the school, he thought: "If I had made on of these pieces, I would have done something worthwhile."
Within a year, Gómez-Ibáñez had sold his firm and enrolled in the two-year course in furniture and cabinet making at North Bennet Street. In the years since graduating, he has been blending furniture commissions with some architectural consulting. And, for good measure, he served in the voluntary but very demanding role of president of The Furniture Society for four years.
Within a few weeks of the end of his tenure as president, as he looked forward to having more time for making furniture, he got a call from his alma mater, North Bennet Street, asking if he would become the 121-year-old school's executive director. The new job gives Goméz-Ibáñez extra time in the shop, but much of it is spent wearing a tie instead of a T-shirt.
Photo: Lance Patterson
View PDF