Table Saw Jig for Rabbets and Dados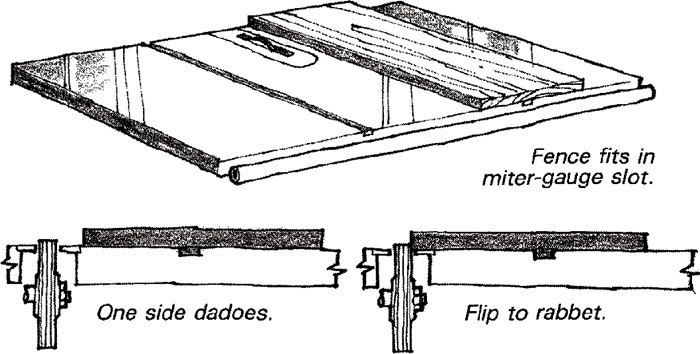 Because the plywood end panels I make for kitchen cabinet jobs are usually worked the same way each time, I found myself setting the rip fence to the same measurements for dadoes and rabbets time and time again. The simple fixture above solved this problem because it is essentially a pre-measured rip fence that I can use instantly by just popping it into the miter-gauge slot. It's a dual-purpose fixture I just lift it out of the slot, turn it end-for-end and push it back down into the slot to use the other side. One side cuts dadoes 2 in. from the edge of the workpiece, the other side cuts 3/4-in. rabbets.
The dado fixture worked so well that I made a second variation strictly for rabbeting. One edge is sized to cut 3/8-in. rabbets and the other to cut 1/4-in. rabbets. I discovered on this second jig that it's best to make the fixture to mount in the right-hand miter-gauge slot if your sawblade slides on the arbor from the right (and vice versa if your blade slides on from the left). If made this way, the fixture can be used with virtually any width dado head in the saw any excess width in the dado head is covered and doesn't affect the rabbet.
Don Russell, Auburn, Calif.
Fine Woodworking Magazine, October 1986 No. 60