Slot-Cutting Jig for Splined Miter Joints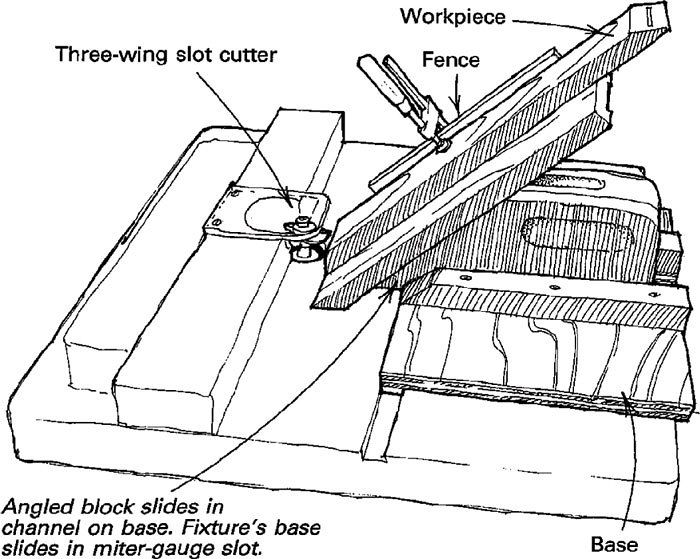 I've found that expensive slot-cutting machines aren't really needed for plate joinery. A 5/32-in.-wide, three-wing slot cutter mounted in a router table works well. To use the router for edge-to-edge plate joinery, hold the right end of the work securely as you push the edge into the cutter and rout a slot slightly longer than the biscuit.
Cutting the spline slots for mitered frames, however, is not quite so easy and requires a special fixture like the one shown in the drawing. The fixture's base rides in the router table's miter-gauge slot and two pieces of 1-1/4-in. by 1-1/4-in. stock are screwed to the base to form a channel perpendicular to the miter-gauge slot. Within this channel, a block of wood with one end cut at a 45¡ angle slides toward or away from the three-wing cutter. Finally, a board with a fence screwed to one edge is mounted on the angled surface of the block to register the workpiece and provide a clamping perch.
To use the fixture, clamp the mitered workpiece on the 45¡ block and push it into the cutter. You can cut a longer slot by moving the base of the carriage in the miter-gauge slot. Make pencil marks on the face of the workpiece to designate the ends of the slot; in production situations, clamp stop blocks to the top of the router table to limit the length of the slot.
Jim Christo, Jamestown, N.Y.
Fine Woodworking Magazine, June 1990 No. 82