Oscillating Spindle Sander Uses a Drill Press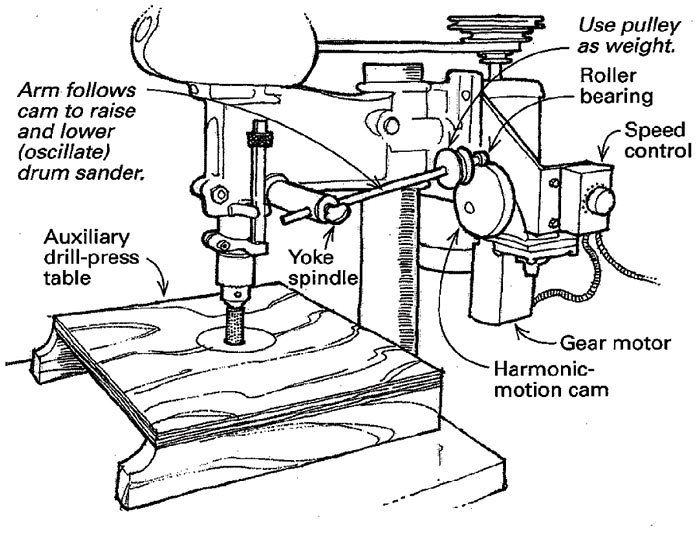 The oscillating spindle-sander attachment for a drill press described in Fine Woodworking #109 appears to be a good substitute for a benchtop sander. I built a similar, less expensive version that I've been using for more than 20 years. The attachment uses a gear motor to drive a harmonic-motion cam (a circular disc rotating off center), which raises and lowers the quill by means of a follower arm. I made the cam from 1/2-in.-thick Garolite, a dense thermoset plastic, which looks like tempered Masonite. Aluminum or even hardwood could be substituted. The follower is a steel rod that fits in the feed-yoke hole in the drill press. It is fitted with a roller bearing that rides the cam. Sandwich the bearing between thin brass washers, and hold it in place with a slotted-head machine screw. Fasten a weight to the rod (I used a cast-iron pulley) to counteract the spindle-return spring so that the follower rides firmly against the cam as it revolves.
My gear motor is a forerunner of the current Dayton model 2Z803, 1/15 hp, 100 rpm. I reduce the motor to a workable rpm with a speed control. Other slow-speed or variable-speed motors could be used. No matter what motor is used, the only ingenuity required in this setup is in devising a mount for the motor that puts the cam in the right position for the follower arm.
William E. Slaby, Royal Oak, Mich.
Fine Woodworking Magazine, August 1995 No. 113