Wood Artistry LLC - Lap-Sharp Sharpening System LS-200
This low-speed wet/dry sharpening grinder features a foot switch for better control over sharpening.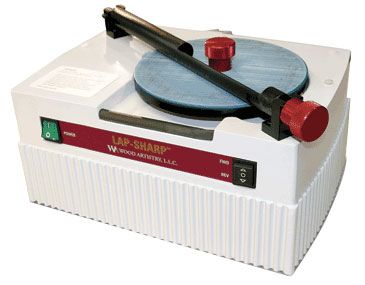 The Lap-Sharp's abrasives are applied to 8-in.-dia. aluminum platters that can be changed quickly. The abrasives that come standard with the machine go up to 10 microns, equivalent to 800-grit sandpaper, so I opted for the Polish Pack ($67), which includes three additional aluminum platters with 5-micron, 3-micron and 1-micron abrasives (1 micron is the rough equivalent of an 8,000-grit waterstone). The unit comes with an excellent manual and a DVD.
This very solid machine didn't slow even under heavy pressure. The foot switch is standard, and makes it possible to keep both hands on a tool when starting the machine, a help when working on the backs of tools. For working on bevels, I was slightly disappointed in the $80 tool-guide assembly. It works best when used with the tool clamp, which takes some setup. Once tightened, however, an excellent edge can be ground and honed quickly and accurately on chisels and plane irons.
Earlier Review (2/1/2005) by Tim Albers:  
Lap-Sharp Quickly Brings Tools to a Mirror Finish
For years woodworkers have been searching for the ultimate alternative to sharpening by hand. Many electrically powered sharpening machines simply are too aggressive to achieve a truly sharp edge. The makers of the Lap-Sharp system want to change that.
The price of the LS-200 system is significant: $595 for the basic machine, plus $95 for the tool-guide bar and a self-squaring clamp, and another $34 for a starter pack of abrasives bring the initial total to $724.
The Lap-Sharp system uses 8-in.-dia. aluminum disks to which pressure-sensitive abrasives are applied, and the disks spin on a turntable at 170 rpm. Ample power is supplied through a 1/15-hp motor that is controlled by a foot switch. The cast-aluminum machine base provides a stable platform. 
The standard abrasives are aluminum oxide, but some are made from Trizact, a more durable silicon-carbide paper from 3M. Included with the basic machine are five aluminum disks fitted with aluminum-oxide abrasives ranging from 120 micron to 10 micron, roughly equivalent to about 120- to 800-grit sandpaper. The unit I tested also included an optional set of three honing disks—called the Polish-Pack (available for $67)—fitted with 5-, 3-, and 1-micron abrasives. 
The Lap-Sharp can be used either wet or dry. To use it with a lubricant, the manufacturer recommends a water-soluble oil, such as that used by machinists, sprayed onto the disk.
The tool-guide bar comes with an anodized-aluminum clamp that holds the cutting tool firmly in place. The self-squaring clamp rides along the tool-guide bar and allows you to hold the cutting edge steady and to maintain a consistent bevel angle. The clamp works better with longer cutting irons, such as plane blades, than it does with shorter tools, such as Japanese chisels. 
—Tim Albers works wood and repairs machinery in Ventura, Calif.